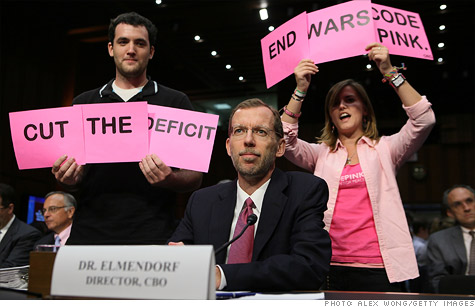 Before the debt committee hearing began Tuesday, protesters held up signs in view of committee members. CBO Director Douglas Elmendorf was the only witness to testify.
NEW YORK (CNNMoney) -- Cutting spending and raising taxes now could put a drag on the economy.
That was the message Congressional Budget Office Director Douglas Elmendorf delivered Tuesday to the new congressional debt committee, which is in week two of its hurry-up assignment to propose ways to slash deficits.
The good news? There are fiscally responsible ways to spur the economy while simultaneously bringing down long-term deficits, Elmendorf told the 12-member panel.
The "most effective" budget approach, he said, "would be changes in taxes and spending that would widen the deficit today but narrow it later in the decade."
In other words, pairing policies to spur economic growth while also enacting a longer term debt reduction plan to take effect later.
Elmendorf's reasoning: The unemployment rate is high. Factories and offices are underused. And interest rates are already at rock bottom.
Thus, he said, "there is no inherent contradiction between using fiscal policy to support the economy today ... and imposing fiscal restraint several years from now when output and employment will probably be close to their potential."
Not everyone on the committee agreed. Republican Sen. Pat Toomey said he's concerned the country's debt was already weighing on the economy and increased spending now would do more harm than good.
"I would argue that if we tolerate or aggravate the current deficit problem with the promise that we'll work it all out in the future, that's a very, very dangerous direction to head in," he said.
The past is past: Elmendorf also sounded another cautionary note to lawmakers: The country's budgetary future will look very different than its past.
Lawmakers on both sides of the aisle often use the past to make partisan points about ideal levels of spending and taxes. But the past may not be the best source of guidance.
The aging of the population and a projected rise in health care costs "have changed the backdrop for [future] budgetary decisions in a fundamental way," Elmendorf said.
"Really the fundamental question for you is not how we got here but where you want the country to go," he added. "What role do you and your colleagues want the government to play in the economy and society?"
'Go Big' chorus gets bigger: The committee is under pressure to exceed its deficit cutting target of $1.5 trillion over 10 years because that size reduction won't prevent the country's debt from growing faster than the economy.
On Monday, a group of more than 60 fiscal experts, former Treasury secretaries and former lawmakers sent a letter to the committee, urging members to "go big" and develop a "large-scale debt reduction package sufficient to stabilize the debt as a share of the economy."
To do that, assuming current tax policies stay in place, lawmakers would need to agree to roughly $4 trillion in deficit reduction over the next decade and getting there won't be possible unless entitlement reform and tax reform are put on the table.
On Tuesday, a number of super committee members echoed their support for the "go big" idea. And so did House Speaker John Boehner and House Minority Whip Steny Hoyer.
"I've always believed it would be easier to get the votes if in fact we got a big deal," said Boehner, who had been in negotiations with President Obama during the debt-ceiling debate to see if they could come up with a so-called "grand bargain" deal.
On Monday, the president is set to present the super committee with his own debt cutting proposal that is likely to call for at least $4 trillion in deficit reduction.
- CNN congressional producer Deirdre Walsh contributed to this report.