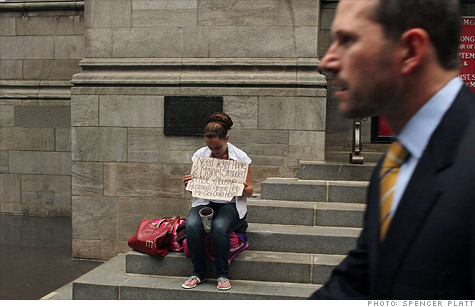 A land of opportunity?
(MONEY Magazine) -- The idea that we're headed for or are already in a "double dip" recession is gaining steam. It's largely a discussion for economists and journalists, though; if you're feeling the effects of a weak economy, the distinction between one that's growing slowly and one that's running in reverse doesn't much matter.
In fact, in thinking about how you should respond to conditions now, it's effective to look at which of the two economies you live in: the one for those with good jobs and good credit, or little need for credit; or the one for those with no or low-paying jobs, struggling businesses, and little available credit.
Guess what's knocking?
For all the angst double-dip discussion creates, if you're part of the "good economy" group, opportunity abounds. Yes the market's plunge since July smarts, but big-company stocks are now by some measures priced substantially lower than their historical averages.
Jim Awad, managing director for Zephyr Management, points to U.S. and European global large-caps that are positioned to take advantage of strong (though weakening) growth in Asia and Latin America and offer above-average dividend yields.
Awad suggests mutual funds SIT Dividend Growth (SDVGX) and Tweedy Brown Global Value (TBGVX). Add Lazard Emerging Markets (EMBOX) to give you exposure to the big players in developing economies. Buy on the dips, Awad says, and hold.
Then there's the bet I refuse to fold on: real estate. Single-family-home prices can't quite seem to find their bottom, despite historically low mortgage rates. Still, houses in most parts of the country aren't likely to get much cheaper, and rates can't go appreciably lower.
Send The Help Desk your questions for Ali Velshi.
Scooping up property now, if you're prepared to sit on it, could be the opportunity of a lifetime. (Disclaimer: I first argued this when rates were almost a percentage point higher, but in 10 years I'll have been proved right on the buy call. I'm a patient man.)
In the other economy, bargain stock and home prices are of no value for those struggling to get by. This group has little access to capital to improve their lives or build businesses. And many who do own a small business are feeling the pressure of a sustained lack of demand.
No rescue in sight
If that's where you are now, protect yourself as you would your home against a hurricane. Build your emergency fund, even if you have to cut your 401(k) contributions for a while. And pass on any new high-interest debt.
If the "bad economy" does take another leg down, there's no political will to fund a rescue.
Next month I'll show you some work I've been doing on a cost/benefit calculation for workers who are trying to decide whether to make a mid-career change. It's not easy out there, and the bad economy isn't recovering soon -- even if the double dip is smoothed away.