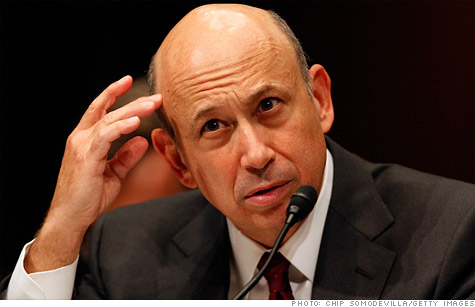 Goldman Sachs CEO Lloyd Blankfein is hearing new calls for him to cease his role as chairman of the board.
NEW YORK (CNNMoney) -- Goldman Sachs Chief Executive Lloyd Blankfein is facing pressure from an activist shareholder group to relinquish his title as chairman of the board.
The AFSCME Plan, a pension plan for a public services employees union, filed a shareholder resolution Wednesday asking Goldman to appoint an independent chairman.
Blankfein currently holds the position of chief executive and chairman of the board at the New York-based bank.
The proposal argues that Goldman shareholders have suffered as a result of Blankfein's dual roll, which the shareholder group say gives him too much power.
"A chair is supposed to oversee the CEO," said AFSCME President Gerald W. McEntee. "It's time for Lloyd Blankfein to stop grading his own homework."
In a press release, AFSCME points to a Senate report issued last year that said Goldman contributed to the 2008 financial crisis by constructing complex derivatives based on unsound mortgage loans.
Goldman (GS, Fortune 500) paid a record $550 million fine last year to settle charges stemming from credit default obligations, as the assets are known.
The AFSCME plan, which owns $850 million in assets, filed the proposal ahead of Goldman's spring shareholder meeting.
Goldman spokesman Michael DuVally said a similar resolution proposed by another activist investor group was defeated "by an overwhelming majority of 81%" of shareholders at an investors' meeting in 2009.
"We believe we have a robust governance structure in place with a very effective lead director," he said.
DuVally said Goldman was "disappointed" that AFSCME announced the proposal publicly before discussing it with the company. However, he added that the bank "always listens to our shareholders."