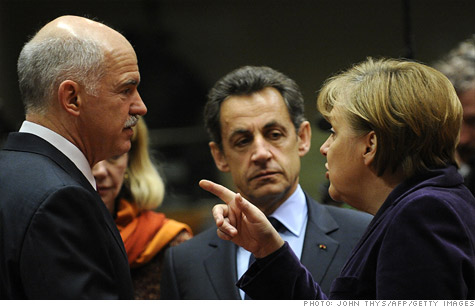 German Chancellor Angela Merkel (R) and French President Nicolas Sarkozy (C) talk with Greek Prime Minister George Papandreou at an EU summit in February.
NEW YORK (CNNMoney) -- The leaders of Europe's two largest economies renewed their call Wednesday for euro area nations to implement proposed reforms to counter the debt crisis threatening their common currency.
German Chancellor Angela Merkel and French President Nicolas Sarkozy issued a joint statement following a phone call with Greek Prime Minister George Papandreou.
The leaders said enacting a set of proposals the European Council announced in July to support Greece and prevent a broader crisis are now more important than ever to "ensure the stability of the eurozone."
On July 21, European leaders agreed in principle to provide another 109 billion euros in emergency funding for Greece, which was teetering on the verge of default.
The latest bailout will be voted on by the governments of individual eurozone nations over the next several weeks.
In their statement Wednesday, Merkel and Sarkozy stressed the need for "strict and effective implementation" of the fiscal reforms that Greece and other euro area nations have agreed to as a condition of their rescue programs.
"The Greek Prime Minister confirmed the absolute certainty of his government to take all necessary measures to implement the conditions in its totality," the statement read.
European leaders also agreed in July to reform the European Financial Stability Fund, which was set up last year to provide low cost loans for troubled eurozone nations. The proposed changes include, among other things, allowing the fund to buy government bonds directly from investors and banks.
However, the stability fund reforms must also be approved unanimously by all 17 euro area nations.
The eurozone has been struggling to resolve long standing debt problems in Greece, Ireland and Portugal. It is also scrambling to prevent the problems from spreading to larger members of the 12 year old currency union, such as Italy and Spain.
Investors have been rattled by signs the proposed reforms may not make it through the political process and that Greece may not qualify for its latest installment of bailout money.
Financial markets around the world have been rocked by volatility as investors await a clear indication from EU policymakers that the debt crisis is under control.