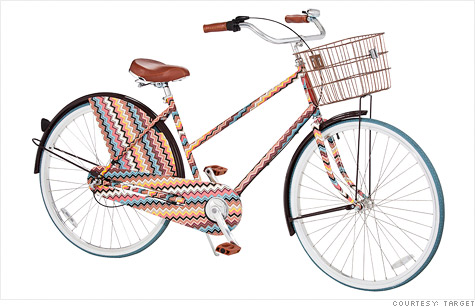 One of the most talked about offerings in the Missoni for Target collection, a three-speed bike, which was being sold for $1,500 on Craigslist.
NEW YORK (CNNMoney) -- Just one day after the launch of the Missoni for Target collection brought the retailer's web site to its knees, a secondary market for the items -- many of which sold out in a matter of hours -- has already sprung up on eBay and Craigslist.
But shoppers eager to nab items from the limited edition of home goods, apparel and accessories better be prepared to pay a premium: The same Missoni for Target offerings on these sites are being sold for up to five times the original retail price.
A Missoni for Target throw in a classic colorful zigzag pattern that retailed for $39.99 is now being offered on eBay for close to $200 and one of the most hyped offerings, a three-speed bike (also with the trademark Missoni pattern), is being sold for $1,500 on Craigslist -- four times more than the original retail price.
Lauren Riley was one of the lucky few who were able to get online before Target's site crashed on Tuesday. "I just started buying," she said.
Although Riley originally intended to keep a few things for herself and give other items to her friends, she says she quickly changed her mind after she saw the potential to profit. Among other items, Riley is selling a Missoni for Target travel tote for $165 on Craigslist -- the original retail price: $34.99.
"Once I saw the high upsale I said, you know what I don't need it that badly," she said.
Although the markups are substantial, the prices are still significantly lower than Missoni's usual price point. A $39.99 Missoni for Target sleeveless sweater dress is available for $150 to $300 on the black market, but such offerings from the Italian designer would normally cost well over $1,000 at stores like Saks Fifth Avenue and Neiman Marcus (although those sweater dresses would be wool rather than polyester).
This latest collaboration is one in a long line of capsule collections Target has done since the inception of the GO International program in 2006, aimed to highlight high-end designers with mainstream appeal, all of which have been extremely popular.
"There's something about these collaborations that is infectious," noted Alexandra Greenawalt, a New York-based fashion stylist.
Previous collaborations with designers including Zac Posen, Rodarte and Thakoon have also resulted in lucrative second-market sales, but not to this extent, Greenawalt said.
Joshua Carter, a spokesman for Target, said some additional supply will trickle in to stores and online although supplies will vary by location.
"Target is aware of online auction sites carrying the Missoni for Target collection -- this is similar to past designer collections. We encourage guests to shop the collection at Target and Target.com to ensure they are getting the best deal and authentic product," he said.
The Missoni for Target collection will continue to be available through Oct. 22, pending availability.