Consumers: We want Gucci or Target. Forget the Gap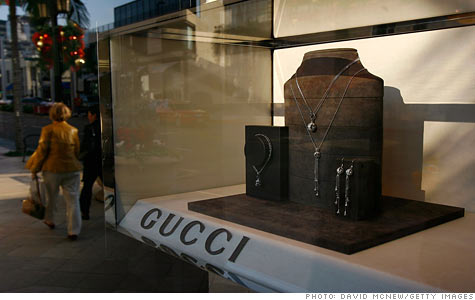 NEW YORK (CNNMoney) -- Consumers are ready for a little luxury. Despite cutting back in other areas, such as dining, they are showing a clear preference for select high-end apparel brands, such as Gucci, Louis Vuitton and Burberry.
After taking a hit at the height of the recession, sales of luxury goods have rebounded strongly, up 10%-12% last year in the U.S., according to estimates by Telsey Advisory Group, a retail equity research firm. Comparatively, retail sales across the board rose just 6%.
"People are willing to pay a premium on something that delivers on luxury," noted Milton Pedraza, the CEO of the Luxury Institute, which tracks spending among wealthy consumers with a minimum annual income of $150,000. "They will buy fewer but more expensive things. There's a lot more value consciousness."
But with an eye on value, shoppers are also hunting down designer brands at steep discounts, frequenting stores such TJ Maxx and online sale sites such as Gilt Groupe.
Ed Jay, senior vice president of American Express Business Insights, calls this "the barbell effect."
"They are more high and low in the way that they are spending," Jay said of today's consumers. "High-end brands are holding ground among consumers, while spending at value oriented stores has also been pretty stable. It's a tough place for mid-tier right now," he said, referring to retailers like the Gap, Chico's and Ann Taylor.
Susan Towers, who owns her own design business in New York, admits she shops high and low, but nothing in between.
"I shop at Barney's and Bergdorf's and take a walk through Loehmann's every so often," she said. Lately she says it's more Loehmann's and less Barney's, but still "I've never really believed in buying mid-priced stuff."
She has had to make sacrifices to afford Barney's, though, because she makes about half of what she used to bring in before the recession. "I had to cut back, eat out less, take less vacations, things like that," Towers explained.
Part-time French teacher Geraldine Trippitelli also says she would rather have one luxury item, which she pairs with other much less expensive clothing, than more mid-range brands.
"I prefer one Chanel jacket with cheap jeans and T-shirt, but just one, and then I have to be careful for a long time," said Trippitelli, who shops either in high-end boutiques in New York or discounters like TJ Maxx and Target.
And other shoppers seem to be following suit. Overall luxury fashion spending is up 35% in the past year, while mainstream fashion spending gained just 8% since last year, according to the most recent data by American Express Business Insights, which tracks the spending habits of its 90 million cardholders.
And while high-end department stores like Nordstrom and Saks have rebounded strongly from the recession, more middle-of-the-road shops, such as Macy's and JC Penney, have struggled to gain ground.
Same-store sales, an important barometer in retail, rose 5.8% at Macy's and 5% at Kohl's in February, while Nordstrom jumped 7.3% and Saks was a whopping 15.3% higher. The Gap and Banana Republic both had same-store sales below where they were a year ago.
Part of this trend, explained Robert W. Baird & Co. retail analyst Erika Maschmeyer, is the shift in focus to quality rather than quantity during the recession. "People got used to a different standard of living in the boom area and once you've traded up, it's hard to shift back down," she said.
Still, as the economy improves and consumer confidence continues to increase, Maschmeyer predicts even those mid-level stores will eventually see stronger sales. "I wouldn't bet against the American consumer; we like to spend money," she said.