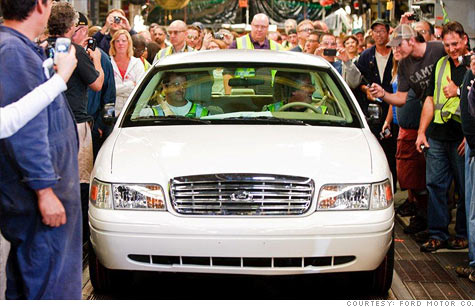 Canadian auto workers with the last Ford Crown Victoria to ever be produced.
NEW YORK (CNNMoney) -- The last Ford Crown Victoria rolled off a Canadian assembly line Thursday, marking the end of the big, heavy Ford cars that have been popular with taxi fleets and police departments for decades.
Since 1979, almost 10 million Crown Victoria, Mercury Grand Marquis and Lincoln Town Cars -- so-called Panther Platform vehicles -- have been sold.
Demand for better fuel economy and performance has choked off sales over the years. The Crown Victoria and Town Car get just 24 miles per gallon on the highway, a figure matched by some large three-row SUVs today.
"Production levels at the [Ontario, Canada] plant have declined by 60 percent in the last decade as customer preferences shifted to smaller, more fuel-efficient vehicles," Ford said in its announcement.
With the last car rolling of the line Thursday, all production will stop.
Ford (F, Fortune 500) is offering $100,000 cash payments or relocation offers, among other programs, for the workers at the plant, the automaker said. A closure agreement between Ford of Canada and the Canadian Auto Workers union was reached in 2009 , Ford said.
For the last several years the Grand Marquis and the Town Car have only been offered to fleet buyers, not individual retail customers. Mercury, which sold the Grand Marquis, was shut down altogether as a car brand last year.
Ford sold about 80,000 Crown Victorias and Town Cars combined last year, said Tony Gratson, Ford's manager for government fleet sales. Those figures just weren't enough to support a factory capable of producing 250,000 cars a year.
The Crown Victoria and its cousins have been popular with fleet users because of their roominess, legendary ruggedness and relative simplicity.
Most cars today are built with so-called unibody engineering in which the body sides and roof play a role in keeping the body rigid. The Panther Platform vehicles were engineered with an old-fashioned body-on-frame design that's mostly used by pickup trucks today because, while heavier, it's better able to bounce back from heavy, punishing use.
"You couldn't kill it no matter what you did to it," Ford spokesman Octavio Navarro said of the Crown Victoria.
For some fleet buyers there's no obvious replacement for these rugged cars.
"The [Lincoln] Town Car has traditionally been an easy-to-fix vehicle," said Tarek Mallah, general manager Dial 7 car service, a so-called "black car" service in New York City. "It's got legroom. It was designed as a livery vehicle to start with. It's passenger-centric."
Mallah said he still isn't sure what he'll use to eventually replace the Town Car.
Ford has already begun marketing vehicles to take up the Crown Victoria and Town Car's role in various fleet uses.
The automaker has started producing the specially designed Taurus Police Interceptor to replace the Crown Victoria that had been America's most popular police car. Seeing an opportunity, Chrysler Group and General Motors (GM, Fortune 500) are also aggressively marketing their own police car options.
Ford has also begun marketing the Transit Connect van as a taxi cab. It was was recently approved for that use use in New York City, but in the longer term New York has agreed to a deal with Nissan to produce what, beginning in 2013, will be the sole New York City taxi option.
For livery service companies like Dial 7, Ford is making a special version of the Lincoln MKT, a large crossover SUV. Mallah is skeptical, however. His customers expect to be picked up in a car, not an SUV.
"It doesn't have the Town Car look," he said of the new offering.