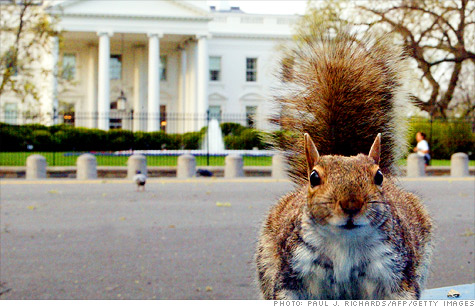 Yes, squirrels. Really.
NEW YORK (CNNMoney) -- In Tennessee, $269,000 was spent on a sanctuary for white squirrels. A Chevrolet Corvette simulator destined for a Kentucky museum cost $200,000. A Roman bath house in West Virginia was renovated for $160,000.
Believe it or not, a critical bill in the Senate was nearly brought to a standstill by a dispute over whether to fund projects like these.
One senator -- Tom Coburn -- threatened to block his colleagues from voting on a stop-gap measure to fund the Federal Aviation Administration and highway construction program because he objects to how some of the funds will be spent.
Coburn had said he would block the Senate from voting on the bill, but relented Thursday afternoon after reaching a deal with Democratic leadership.
The cantankerous Republican from Oklahoma wanted more highway construction funds to be spent on critical infrastructure projects like bridges, and fewer federal dollars directed to a category called "transportation enhancement activities."
As it was written, 10% of the highway bill's surface transportation funding would be directed to projects that fall into that category, which include transportation museums, pedestrian walkways, bicycle paths, landscaping and scenic beautification.
Oh, and in the past, that has even meant projects like squirrel sanctuaries.
Congress spent nearly $1 billion on transportation "enhancement" projects last year.
According to Coburn's office, the deal the senator struck with Democrats will allow states to opt out and spend enhancement money on bridge repair and other priorities of their choosing when the bill extension expires in six months.
The deal came at the last minute. Earlier on Thursday, Coburn said he was making his stand against government waste.
"We're in trouble as a nation because Congress doesn't set priorities, and when they do set priorities they are of no connection to the reality of our financial situation," Coburn said.
The federal highway program, which includes an 18.4 cent tax on gasoline, was set to expire at the end of the month. A failure by lawmakers to extend it would mean less funding for highway construction -- at a terrible time for the economy.
And at the moment, FAA funding is also tied up in the bill, which has already passed the House.
For Coburn, this isn't exactly a new strategy. The Oklahoman has thrown the Senate a few procedural curve balls in the past in order to prove a point. He even earns concessions from the majority on occasion.
In 2009, he successfully added a proposal to allow guns in national parks to a bill cracking down on credit card abuses.
Once again, despite vocal opposition from Democrats, and even some Republicans, Coburn was adamant.
"There has to be a point in time in this country when we change direction and we start meeting the obligations that are put before us," Coburn said Wednesday.
Meanwhile, the clock is once again winding down on another critical piece of legislation that requires the attention of lawmakers.
Congress has to authorize funding for government agencies before the start of the new fiscal year on Oct. 1. If nothing happens, funding will expire and the government will shut down.
Lawmakers took the first step toward implementing a stopgap measure on Thursday, introducing a "continuing resolution" that will act as a Band-Aid until a long-term solution can be found.