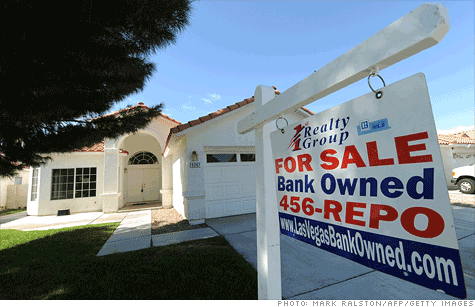 Foreclosure filings rose 7% in August, but still remain significantly lower than where they were a year ago, according to RealtyTrac.
NEW YORK (CNNMoney) -- Foreclosure filings rose in August, as more homebuyers fell behind on their mortgage payments.
Filings were up 7% compared to July, but were still 33% lower than they were a year ago -- marking the eleventh straight month of year-over-year declines, according to RealtyTrac, a leading online marketer of foreclosed properties.
According to the report, 228,098 homes in the U.S. received some kind of foreclosure filing in August. Default notices, which typically initiate the foreclosure process, surged more 33% from July. Foreclosure auctions and bank repossessions, which come later in the process, both fell slightly.
The increase in default notices may signal that lenders are starting to finally push through foreclosure paperwork that was previously delayed by the "robo-signing" controversy last fall, said RealtyTrac CEO James Saccacio.
"It also foreshadows more bank repossessions in the coming months as these new foreclosures make their way through the process," he said in a release.
The good news is that bank repossessions have been falling. Lenders repossessed 64,813 homes in August, a six-month low and a 37% decline after bank repossessions hit a peak in September last year.
Meanwhile, foreclosure auctions were scheduled for 84,405 homes, the lowest number in more than three years.
Not surprisingly, Nevada, California and Arizona housing markets continued to be the hardest hit by foreclosures.
Nevada has had the nation's highest foreclosure rate for more than four-and-a-half years now, and even though bank repossessions and auctions both fell in August, the state saw default notices increase 31%.
One in every 118 Nevada homes received a foreclosure filing in August.
California came in second place, with one in every 226 homes in foreclosure, and Arizona, with one in every 248 homes, was third.