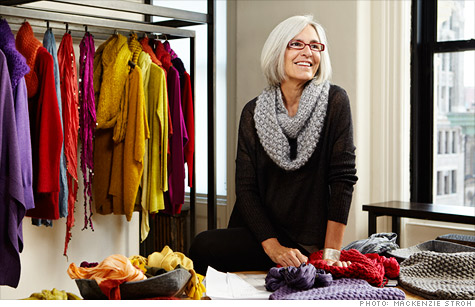 Eileen Fisher: "I still believe great clothes should be ... ageless."
FORTUNE -- New York fashion legend Eileen Fisher tells how she came up with a simple idea and ... kept it simple.
I grew up outside Chicago, in Des Plaines, Ill., in a family of six girls. My mother sewed us clothes when we were young. I went with her to fabric stores and then started going by myself. I loved touching the fabric and looking through the pattern books. I never thought about being a designer; it was just a fun thing to do. In high school I took a sewing class. I made my prom dress: a pink, flowered, polished-cotton thing. I was still hemming it as the prom was starting. What a nightmare!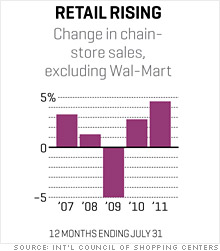 I went away to college thinking I was going to be a math major. It was the only subject that came naturally. I wasn't thinking about design. I didn't think I had any creative talent. I just wanted to go to college -- to get out, see the world, and grow. My first two years I went to Northern Illinois, and then the University of Illinois. I had a roommate who was studying interior design. She would be on the floor playing with fabrics and colors, putting things together. At one point I thought, I'm never going to get through school if I don't do something a little easier. So I ended up doing home economics. In those days that's what people who were interested in clothing or design or textiles did.
After graduating in 1972, I ended up in Chicago for about six months. A friend was moving to New York, so I said, "I'm in." At first I floundered around with jobs in design and graphics and interiors. I've always struggled with communication, and interior design requires communicating a lot with clients. I just couldn't explain my vision.
In 1975, when I was in my twenties, I started working for a graphic designer in SoHo. We traveled to Japan to meet with clients, and it was inspiring. The materials were very natural, earthy, and simple. I thought the little cropped wide pants they wore in the rice fields were so cute. And the kimonos -- I was fascinated that for 1,100 years they wore that one shape. I was interested in the idea that you could make simple clothes that would last, that would transcend the fashions, which is a very hard thing to do.
At the same time, I hated shopping for clothes because I couldn't find what I wanted. I really didn't like spending an hour getting dressed in the morning, trying to figure out what to wear. Men could wear suits and always look pulled together and professional.
So there was a passion to make it simpler for myself and for women. I remembered the days of the uniform -- I had worn one for 12 years during school -- and that I could just get up, put it on, and life was about whatever else was going on and not just about clothes.
I would talk about my idea like an art project, like other artists in SoHo would talk about the paintings they wanted to do or the vision they had about some installation. I could see the pictures: There would be a lot of shapes, they would work together, and you could build a wardrobe. It wasn't what you'd wear to the Oscars. They were real clothes, what I wanted and what I thought my friends wanted.
I had a friend who was a sculptor, but he also sold jewelry at the designers boutique show. I visited him there, and all of a sudden I saw how I could present and sell my clothes. Before, that had been a daunting idea because of my lack of communication skills. I couldn't imagine walking into a store and asking for a buyer or standing in line to show him my clothes. But with a booth at a show, I could hang up my clothes and see what people said. The sculptor decided to stop making jewelry, but he had rented a booth for the show and he pushed me to use it to show my idea.
It was January of 1984, and I was living in Tribeca, where I had all these artist friends. Someone knew a pattern maker and a seamstress, and she made the first four garments, in three colors and white. I went to the show and forgot to price the clothes, but other designers came over and helped me. Then the buyers came through, and I sold small orders to eight stores. I felt I was onto something.
Back then, the boutique shows were in the Coliseum, which was on 59th Street at Columbus Circle. We have a store there now in the Time Warner Center. Sometimes when I come around that building, I remember leaning the dowels that I hung the clothes on against the wall, waiting for a taxi, and hoping nobody would steal things. By the time I went to the next show a year later, I had eight garments, and it was really a success. People stood in line, and I sold $40,000 worth of orders. A lot of designers have a strong, clear vision, but I was much more about creating a back and forth with the buyers, which is always how we've run the business. It's not about my ego. These clothes are for people to live in.
There were difficult moments. During the first few years I became known as the French terry lady, because it was the only fabric I used. But then we got a delivery from the manufacturer that wasn't right -- they had substituted the yarn, and the garments weren't coming out right. Some people ended up liking it, but it was a rough season, especially early on in the game. I began to think that I'd better not be so attached to only one fabric. So I started making other styles in silks and wool jersey, and the business exploded.
In 1991 we opened the first Eileen Fisher store on Madison Avenue in New York, and the following year we moved our headquarters outside the city to Irvington, N.Y. Then in 1998 we launched the Eileen Fisher New York line, which was more upscale. Unfortunately the department stores didn't really know which floor to put us on and it didn't take off, so we discontinued it a year later.
Over the years we considered whether we should sell the business or go public, but none of those things ever felt right. We tend to make longer-term decisions, so we thought reporting quarterly profits might not work for us. We also wanted our employees to have a sense of ownership. In the early days I gave people profit sharing. It seemed natural to make them owners. So in 2006 we converted 31% of the company into an employee stock-ownership plan (ESOP), which also has tax benefits and I get to cash out a little bit. Over time it's my intention to move the whole company into an ESOP.
Today we have 55 stores in the U.S.; we recently opened our first one in Vancouver, Canada, and this fall we'll launch in Britain. We're also creating a hipper image to reach a broader range of customers. When the garment is right, it works for my daughter and for me. I still believe great clothes should be timeless and ageless.
My advice
1. Don't pretend to know. If you act like a know-it-all, then no one will tell you anything. If you say you don't know, people come forward and want to tell you. People like to give advice and help.
2. Be authentic. Doing good can't just be a trumped-up thing. It has to come from within and be what you really want to do, or else it rings hollow.
3. Tell the truth. You're not just trying to sell customers something in the moment. You're trying to get them something they'll love that's going to work for them.
4. Accept perfect enough. We've adopted the saying "Let it go -- it's perfect enough." Often the first time you produce a garment or work with a new fabric, you have to tweak it. In the mistake is the next success.
5. Focus first. Because I used one fabric to start, I was able to purchase a larger amount, dye enough, move it from one style to another. Then there came a point that it was aching to break out of its little box.
6. Make it safe to tell the truth. People don't want to say, "That didn't work," but we want to hear the truth. You might be giving us information that will bring us to a really good place.
This article is from the September 26, 2011 issue of Fortune.