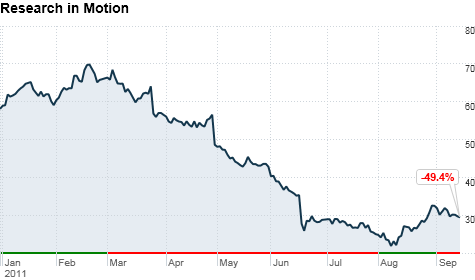 RIM shares have risen from their nadir but are still down almost 50% this year.
NEW YORK (CNNMoney) -- Research in Motion shares dropped sharply in premarket trading Friday, a day after the company announced grim second-quarter results that fell far short of Wall Street's sales and earnings forecasts.
RIM shipped 10.6 million BlackBerry smartphones to retailers last quarter, below the 11 million to 12.5 million it had expected to ship. Its entry in the tablet wars, the BlackBerry PlayBook, shipped just 200,000 units -- a significant drop-off from the 500,000 RIM shipped in the prior quarter. The PlayBook went on sale in April.
RIM earned $329 million in the quarter, less than half of its profit a year ago. RIM booked a one-time charge of $118 million for costs associated with a reorganization announced in July. As part of that plan, RIM said it was slashing 2,000 jobs, or 10% of its workforce.
Excluding the charge, RIM reported earnings of 80 cents per share, below the 88 cents per share that analysts had expected.
RIM (RIMM)'s shares fell 19% in premarket trading Friday.
In a conference call with analysts following the earnings release, RIM's co-CEOs struck a defiantly optimistic tone.
PlayBook sales are "well below where we would like it to be," co-CEO Mike Laziridis conceded, but RIM expects its upcoming "PlayBook 2.0" software overhaul to goose sales. That update, which will be demonstrated at RIM's DevCon event in San Francisco next month and released soon after, will bring oft-requested features including built-in native e-mail, calendar and contact-management tools.
But analysts aren't sold on RIM's argument that its problems are a temporary part of a turnaround master plan.
"You appear quite confident about BlackBerry 7," RBC Capital Markets analyst Mike Abramsky said on the call, referring to the new operating system RIM rolled out last month. "I'm just wondering why you feel that confidence, given that sell-through is obviously coming in below what you expect."
Laziridis said RIM is "thrilled" with its BB7 launch, and expects sales to pick up in coming quarters as momentum builds.
RIM, which once dominated the high-end mobile phone market with its iconic BlackBerry, is now struggling to keep up with the industry's innovators: Apple's (AAPL, Fortune 500) iPhone and Google's (GOOG, Fortune 500) Android platform.
Its first all-touch phone, the BlackBerry Torch 9850, went on sale Thursday for Verizon (VZ, Fortune 500) Wireless customers -- to generally negative reviews.
Can RIM be saved?
"If for some reason I was forced to either use RIM's BlackBerry Torch 9850 or the first-generation 2007 iPhone as my daily phone, there's no question what I would choose: the iPhone," BGR's Jonathan S. Geller wrote in his analysis of the phone.
RIM still has a few big assets, including an entrenched corporate customer base and carriers with a vested interest in keeping the BlackBerry flames flickering.
"We believe RIMM benefits from carrier desire to support a viable No. 3 platform to fend off Google and Apple," Sterne Agee analyst Shaw Wu wrote this week in a note to clients.
But RIM's long-term survival will hinge on the success of QNX, the next-generation operating system powering the BlackBerry and an upcoming line of smartphones. RIM hasn't set a release timeframe yet for its QNX phones, but Laziridis said RIM will have progress to show off at next month's DevCon.
RIM plans to pitch QNX phones to the high end of the market, taking on the iPhone and Android flagships, while selling BB7 devices at cheaper price points.
"I would say that we have two very strong platforms, and they're targeted at two different markets," RIM co-CEO Jim Balsillie said. "I expect both of them to have a very strong long-term co-existence."
RIM said it expects its BlackBerry shipments to rebound next quarter to a range of 13.5 million to 14.5 million units -- a pickup of around 30% from this quarter. The company's forecast for sales is for at least $5.3 billion.