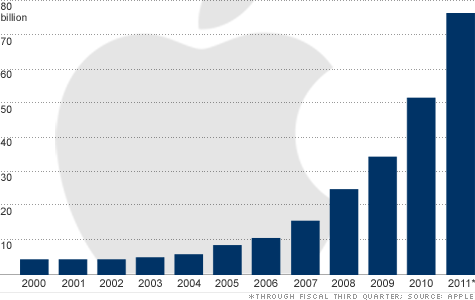 Apple's war chest has grown dramatically over the past few years.
NEW YORK (CNNMoney) -- Apple has more than $76 billion in cash and marketable securities on its balance sheet. That's a lot of scratch. Moolah. Bones. You get my point.
Isn't it time that Apple (AAPL, Fortune 500) put some of that escarole (one of my favorite slang words for money ... pronounced 'sca-rol for maximum effect) to work?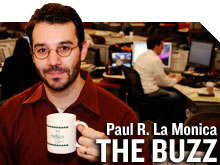 To put into perspective just how much $76 billion is, Apple could buy Netflix (NFLX), ARM Holdings (ARMH), Research in Motion (RIMM) and Nokia (NOK) at their current market values -- and still have about $15 billion in cash left.
I am obviously joking. Apple is not likely to buy any one of those companies, let alone all four. Tim Cook may have taken over for Steve Jobs as CEO, but Cook is probably going to follow Jobs' smart strategy of not wasting cash on big, clunky acquisitions.
But here's one thing Cook could do to set himself apart from Jobs: Apple could finally start to pay a dividend to shareholders.
Yes, yes. I know that Apple bulls (sycophants?) would argue that dividends are for loser tech stocks, the ones whose best days may be behind them, like Microsoft (MSFT, Fortune 500), Cisco (CSCO, Fortune 500) and Hewlett-Packard (HPQ, Fortune 500). Apple has better things to do with its cash.
Still, some Wall Street analysts are stepping up calls for Apple to use its cash in an investor-friendly manner -- meaning a dividend or a stock buyback that could reduce share count and boost earnings per share.
Morgan Stanley analyst Katy Huberty was the latest to pound the iDividend (thanks Caleb Silver for that!) drum in a research note earlier this week.
But the zeal for a dividend isn't shared by the buy side. Some portfolio managers that actually own Apple don't seem too concerned about the lack of a quarterly payout. In fact, several say they don't want Apple to change a thing just yet.
"At some point it makes sense for Apple to pay a dividend. But I don't think Apple is mature enough to do so yet," said Ted Parrish, co-manager of the Henssler Equity Fund (HEQFX) in Kennesaw, Ga. Apple is his fund's second-largest holding.
"There are many directions and product lines Apple can target, and cash will be key for that," Parrish added.
That's valid. Still, how much does Apple really need to invest in the future? I realize that tech is a dynamic business so some sort of war chest is necessary. But doesn't Apple have a big enough mountain of cash already?
Let's use some simple math to show how Apple could pay a nice token dividend and still have plenty of money remaining to use for research and development of the next iBestThingSinceSlicedBread.
The stock price is once again nearing $400 a share. So If Apple wanted to pay a "starter" dividend that yielded about 1%, it could issue quarterly dividends of $1 a share.
Apple has about 938 million shares outstanding, according to its most recent earnings report. A payout of $4 a share annually would cost Apple a mere $3.75 billion.
In other words, Apple could afford to pay this dividend for more than 20 years before it burned through all its cash. And that assumes that Apple doesn't generate any more cash flow during this time frame -- which we all know is a preposterous notion.
Nonetheless, investors said that a dividend from Apple would actually be viewed as a sign of weakness.
"As long as they use cash wisely, we are comfortable not getting a dividend. The whole investing dynamic for Apple could change if we believed it couldn't find other growth opportunities," said Sunil Reddy, portfolio manager with Apex Capital Management, a Dayton, Ohio-based investment firm that owns a slice of Apple.
Another fair point, especially when you consider that Apple shareholders have hardly suffered without a dividend. The stock's up more than 20% this year and nearly 50% in the past 12 months.
Far be it for me to question the tactics of Cook and Jobs, but what keeps tripping me up is the fact that Apple has more than $76 billion in cash. I wouldn't be asking the dividend question if it had "only" $7.6 billion.
Call me old-fashioned, but why is $76 billion necessary? Why can't Apple pay a small dividend and still invest in the future? It's not an "either/or" proposition.
At least one fund manager who owns Apple agrees with me.
"It's always better to return unneeded funds back to shareholders. That should be a rule of thumb," said Rafael Resendes, co-manager of the Toreador Large Cap Fund (TORLX) in Fresno, Calif. "Apple can self-finance what they are doing right now, and I'm not worried they are going to make an idiotic acquisition."
An Apple spokesman referred to previous comments Apple executives have made about the company's cash position. They have long said on conference calls that the company is retaining cash to take advantage of strategic opportunities. Jobs said a year ago that Apple was keeping its "powder dry."
Still, even Reddy didn't have a concrete answer about why Apple needed this much money.
"It is more like a security blanket than anything else," he said.
That's one pricey blanket. Linus Van Pelt could buy every single baby blue one ever made with that kind of money -- and Linus would still probably pay Charlie Brown and Snoopy a dividend.
The opinions expressed in this commentary are solely those of Paul R. La Monica. Other than Time Warner, the parent of CNNMoney, and Abbott Laboratories, La Monica does not own positions in any individual stocks.