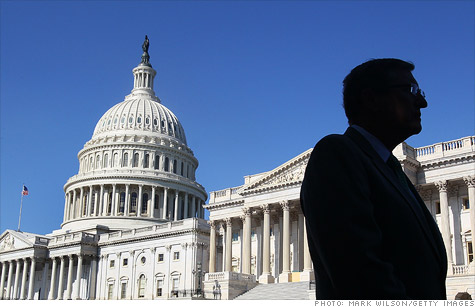 Congress has plans to cut the budget.
NEW YORK (CNNMoney) -- Will lawmakers stick to their own spending plan?
Probably not.
Congress brought the country to the edge of default in August in order to force reductions in federal spending. It was a knock-down drag-out fight and the resulting deal is now the law of the land.
The agreement -- dubbed the Budget Control Act -- raised the debt ceiling. But it also set spending caps on discretionary spending for the next 10 years.
So, in theory, the government should pretty much have its funding plan set. In practice, the situation is much more complicated.
"No Congress can bind a future Congress," said Bill Frenzel, a guest scholar at the Brookings Institution and a Republican who served in Congress for 20 years.
In other words, lawmakers can just change the law. Or pass a new one. And they probably will.
"These spending cuts will be a distant memory 10 years from now," said Sean West, director of U.S. political risk at the Eurasia Group. "We won't still be talking about these spending cuts because they will have been superceded by some other deficit reduction deal."
Over the next 10 years, some lawmakers are likely to push for spending to increase. Others will want further reductions. Elections will change that mixture.
"These caps could well be amended a number of times along the way," Frenzel said. "There always need to be amendments to any fiscal plan."
That's not necessarily a bad thing. It allows lawmakers to react to a new set of budget and economic conditions.
The economy could drastically improve and diminish the need for deficit reduction due to increased tax receipts. It could also fall into a second recession, and demand more spending by Congress.
"We have no real assurance the economy is going to play out the way the assumptions underlying these numbers predict," said Robert Reischauer, a former director of the Congressional Budget Office and president of the Urban Institute.
Other priorities might arise as well. Reischauer pointed to defense spending as an example of a budget area that is frequently in flux due to changing national priorities.
"One can see the security situation being such that we don't go forward with all of the anticipated cuts in defense spending," he said.
Another potential stumbling block: Lawmakers have yet to decide which specific programs to slash in order to meet their deficit reduction goal.
"We haven't really made any tough decisions yet, because we haven't decided how to apply the limits to individual appropriations accounts," Reischauer said. "And that's where the rubber hits the road."
Over the next few months, lawmakers will have to sort through the nitty-gritty details.
Congress has to authorize funding for government agencies before the start of the new fiscal year on Oct. 1. If nothing happens, funding will expire and the government will shut down.
Lawmakers took the first step toward implementing a stopgap measure on Wednesday, introducing a "continuing resolution" that will act as a Band-Aid until a long-term solution can be found.
The proposed funding level for discretionary spending stuck to the what the debt ceiling deal prescribed.
But more than 50 Republicans are already reminding their leadership that there is nothing preventing Congress from setting spending levels for next year below the cap.
Last week, they sent a letter to House Speaker John Boehner reminding him that "the spending cap for fiscal year 2012 included in the debt limit deal is a spending ceiling and not a spending floor."
It's going to be a long battle.
"The Budget Control Act is one significant step down a very long road we will have to travel," Reischauer said.