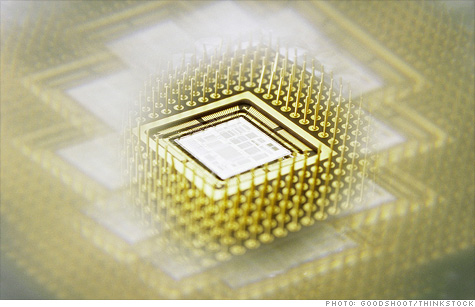 ANAHEIM, Calif. (CNNMoney) -- The biggest change that Microsoft unveiled in Windows 8 wasn't the radically different user interface or the fact that it will be coming to tablets. It was that its long-held duopoly with Intel is coming to an end.
For the first time in its history, Microsoft (MSFT, Fortune 500) will allow PC manufacturers to ship Windows devices that run on chips other than those built on Intel's x86 processor architecture. Windows 8 will run on both x86 chips and processors based on the architecture created by British chip designer ARM (ARMH).
ARM-based semiconductors are among the fastest-growing chipsets in the world, thanks to their popularity in mobile devices like smartphones and tablets. The ARM chips are particularly good at sipping power, preserving battery life and enabling constant connectivity -- all things that will be crucial components of Windows 8 tablets.
The opening up of the Windows platform unlocks new doors for ARM-based chipmakers like Qualcomm, Texas Instruments and Nvidia. Each believes it is uniquely suited to take advantage of the Windows 8 opportunity.
But, surprisingly, Intel and its largest x86 competitor, AMD, couldn't be happier about the situation. That's because both companies believe that Windows 8 offers a global stage for them to prove their worth in the fast-growing mobile device space -- an area in which each would like to gain a foothold.
It's certainly going to be an uphill battle for the ARM group, since most legacy Windows applications won't be supported on that architecture. Some analysts say that and the cost of developing for a new platform will separate the strong from the weak.
"Of the ARM contingent, look for the current players to narrow, given the massive investment needed to play this Windows 8 game over time," said Hans Mosesmann, managing director at Raymond James.
But the existing power players have their own handicaps.
"We still see Intel as significantly disadvantaged when it comes to power consumption and battery life, as ARM is not standing still and continues to innovate and improve," said Richard Windsor, analyst at Nomura.
Though Intel says its 32 nanometer chips that will debut next year have made significant improvements in power consumption, Windsor notes that ARM-based competitors will be on their next generation by then -- opening the power gap back up.
Some believe that ARM-based chipmakers will begin to eat away at Intel and AMD's dominance down the road. That's troubling for Intel, but it's potentially disastrous for AMD, which has failed to grow its 20% market share.
"ARM will make a dent in x86," said Mosesmann. "Intel and AMD both should feel threatened from a mid- to long-term perspective."
In their own words
Qualcomm (QCOM, Fortune 500) says its experience in mobile devices gives the company a running head start over its competition. When Microsoft decided to offer Windows 8 on the ARM architecture, it used Qualcomm chips as its reference hardware.
"We've already mastered the hard part," said Luis Pineda, Qualcomm's head of product management. "Intel is finding power consumption to be difficult, and Texas Instruments is having a hard time with mobile."
Texas Instruments (TXN, Fortune 500) believes it is more than qualified to succeed in the Windows 8 space. TI has put its chips in some high-profile devices like the LG Optimus 3D smartphone, Research In Motion's (RIMM) BlackBerry Playbook tablet and the Barnes & Noble (BKS, Fortune 500) Nook Color.
"We're all about the heart and soul of the next generation of computing devices," said Deepu Talla, general manager of TI's mobile computing business. "We're built on scalability."
Nvidia (NVDA) has had a long relationship with Windows: It's a dominant graphics processing unit maker for PCs. The company recently got into the ARM business.
"We've been working with Microsoft forever, so we've already been in both worlds," said Rene Haas, Nvidia's general manager of notebook products. "Meanwhile, the x86 guys are catching up to us in mobility."
So what about the legacy chipmakers?
AMD (AMD, Fortune 500) is excited to show the world that it can handle mobility without compromising raw power.
"We want to be best-in-class in battery life, but users are only willing to sacrifice performance to an extent," said Gabe Gravning, AMD's senior manager of client product marketing. "The advantage we have over Intel and ARM is our performance. We feel really good about our position."
And of course there's market leader Intel (INTC, Fortune 500), which is confident in its ability to maintain its dominant position.
"When the netbook first came out, everyone was saying it would be the end of Intel," said Jon Carvill, spokesman for Intel. "But when we started making chips for netbooks, that's when they really took off. The same will be true for Windows tablets."

Let the chip games begin. The grand prize: Dominant position in a $300 billion annual market.