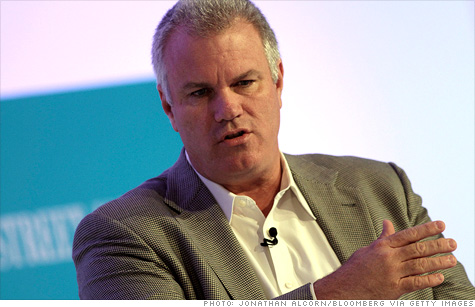 Solyndra CEO Brian Harrison will take his Fifth Amendment rights at a House Energy and Commerce Committee hearing on Friday.
NEW YORK (CNNMoney) -- Top Solyndra executives are not going to testify before Congress about the federal government's backing of the failed solar power company.
Solyndra Chief Executive Brian Harrison and Chief Financial Officer Bill Stover will exercise their Fifth Amendment rights at an upcoming hearing before the House Energy and Commerce Committee, the company said in a statement Tuesday.
The company cited the ongoing Department of Justice investigation and the advice of its counsel, saying the executives will be "unable to provide substantive answers" to lawmakers' questions at Friday's hearing. However, Solyndra said it followed the rules of the application process and that Department of Energy conducted extensive due diligence on the firm.
The solar panel maker has come into the spotlight since declaring bankruptcy late last month because it received a $535 million federal loan guarantee in 2009. Solyndra was the subject of a highly partisan hearing last week, during which Republican lawmakers questioned the Energy Department about failing to adequately vet Solyndra's business model and succumbing to political pressure from the White House.
Lawmakers are using the company's failure as a case study highlighting the danger of government funding for private firms. Solyndra was one of 18 companies that received more than $10 billion in backing from the Energy Department as part of President Obama's 2009 stimulus program to support renewable and clean energy technology.
The department if facing a Sept. 30 deadline to give 14 companies final approval for loan guarantees totaling more than $9 billion. House Energy and Commerce Committee leaders Tuesday wrote to Energy Secretary Steven Chu to voice concerns about rushing the approval process just to meet that deadline.
Solyndra said its bankruptcy was largely caused by the falling price of traditional solar panels. That plunge in turn made Solyndra's more advanced design less competitive.
Energy Department officials say that government backing for cutting-edge energy technologies like the type Solyndra was working on is essential if the U.S. is going to compete with countries like China and Germany, which lavish vast amounts of money on their own renewable energy companies.
During testimony last week, Jonathan Silver, the Energy Department official in charge of the loan program, said the agency is not trying to pick winners or losers in private sector, but merely trying to assist companies that have already received substantial support from venture capitalists.
But the Energy Department also has questions about Solyndra. Two weeks ago, agents from its inspector general's office, along with the FBI, raided the company's California headquarters. Neither agency would comment on the nature of the raid, but the DOE inspector general typically investigates allegations of fraud or wrongdoing at the agency and within entities the agency does business with.
CNNMoney Senior Writer Steve Hargreaves contributed to this report.