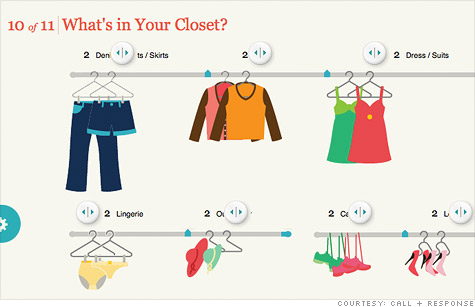 New app and website estimate how much forced labor is used to make everyday products.
NEW YORK (CNNMoney) -- Was your smartphone made in a sweatshop? Were those diapers made by slaves? Were children in another country forced to put that stitching in your designer jeans?
Consumers will be able to find out after the debut Thursday of a new app and website that measure the forced labor in everyday products.
Created by the U.S. State Department and a watchdog group, the free app and website will make consumers aware of their "slavery footprint."
"This is a new way to create awareness about the issue of modern slavery and empower consumers," said Ambassador Luis CdeBaca, director of the State Department's Office to Monitor and Combat Trafficking in Persons. "If we can do carbon footprints, why not slavery footprints?"
Call + Response, a nonprofit organization dedicated to ending modern slavery, partnered with CdeBaca's office a year ago and received funding from the State Department to develop the products.
Forced labor is a situation where anyone is forced to work without pay, said Justin Dillon, Call + Response's president.
The "slavery footprint" app and survey launched Thursday at slaveryfootprint.org.
The survey asks users 11 lifestyle questions. These include: Where do you live? What's in your medicine cabinet? What's in your closet? What gadgets do you own? How much jewelry do you own? Also, have you ever paid for sex?
Afterwards the survey uses a formula based on where the raw materials in the products come from and where the finished products are made, and then assigns a "slavery footprint" score.
Some results: 9 people or "slaves" were used to mine rubies in jewelry; 3.1 individuals were used to make bikes; 1.9 to make diapers; .9 to make cotton T-shirts, and 3.2 to make a smartphone.
Nine is very high, while .9 is low, said Dillon. The ideal number, though, is zero, he added.
"We're not naming any brands because the idea right now is to inform consumers about forced labor behind everyday products and not to put brands on the spot," Dillon said.
Eventually, subsequent versions of the "slavery footprint" tools will allow consumers to enter specific brands.
With the slavery footprint app, the user can snap a photo of a product and send a message to the company inquiring about its position on forced labor. The app also leverages social networks, like Facebook and its "check-in" feature, which automatically lets stores know that the user wants a slavery-free product.
"We want consumers to start that conversation with companies," said Dillon.
This project was a "massive undertaking on a very complex issue," he said. The idea started with picking 450 products -- not specific brands -- that are popularly used, such as bikes, laptops, diapers, coffee, cotton T-shirts, cosmetics and then investigate forced labor used both to source raw materials and to manufacture the items.
The issue of forced labor continues to drift in and out of the social consciousness but hasn't successfully yet stuck in people's mind, he said.
"The challenge has been to hit people with more hard facts and sustain their attention," said Dillon. He hopes the slavery footprint survey and app will change that.