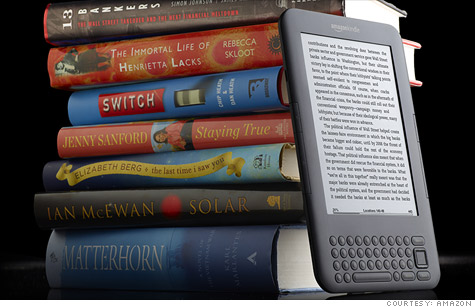 NEW YORK (CNNMoney) -- It's an e-book perk that often flies under the radar: Many bricks-and-mortar libraries are now lending out electronic editions.
That option got an extra push Wednesday when Amazon went live with its library lending program, bringing Kindle e-books to 11,000 participating libraries across the U.S.
Customers with a library card will be able to browse their local library's website and borrow digital books, which will be sent wirelessly to their Kindle devices and apps. You don't have to have a Kindle device to borrow Kindle books: The program works with Amazon's Kindle apps, which are available on a profusion of mobile devices, and with Kindle Cloud Reader, the company's new Web-based offering.
Books can be borrowed for a set duration, typically around two weeks, after which they are deleted from the borrower's digital collection. Libraries purchase licenses for the books they lend, which limits the number of digital copies that can be "checked out" at the same time.
But don't get too excited about borrowing the latest bestseller without ever setting foot in your local library: Amazon (AMZN, Fortune 500) has more than 1 million Kindle titles available now, but only a small fraction of them can be digitally borrowed. Publishers decide which books they'll allow libraries to lend out digitally. Some major publishers, including Simon & Schuster and Macmillan, do not currently sell their e-books to libraries.
Library e-books will have a few cool perks their print counterparts lack.
"Normally, making margin notes in library books is a big no-no. But we're fixing this by extending our Whispersync technology to library books," Jay Marine, director of Amazon Kindle, said in a written statement. "Your notes, highlights and bookmarks are always backed up and available the next time you check out the book or if you decide to buy the book."
Borrowers can choose to publish their notes publicly, passing them on to the next reader. Twitter and Facebook integration also lets readers pass around passages they want to share.
Amazon's library lending is powered by OverDrive, which already had library programs in place to lend out books for Sony (SNE) Reader, Barnes & Noble's (BKS, Fortune 500) Nook and other e-reader platforms. OverDrive says it ended last year with 400,000 e-book, music and video titles available to libraries, which were borrowed 15 million times in 2010.
Topping the "bestseller" list for most-borrowed title: The Girl with the Dragon Tattoo, the first book in Stieg Larsson's Millennium trilogy of mystery novels.