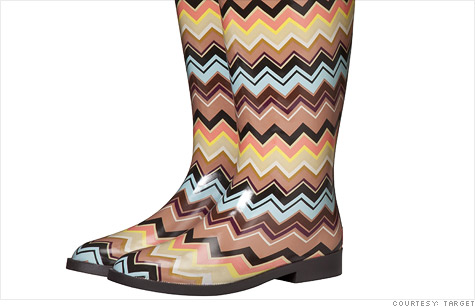 Tammy Lyn is selling rain boots from the Missoni for Target collection on eBay for $31,000
NEW YORK (CNNMoney) -- In the days following the launch of the highly popular Missoni for Target collection, demand for the colorful knits, zigzag totes and retro bicycles caused prices to skyrocket on sites like eBay and Craigslist. Among the marked-up items was a Missoni for Target throw blanket listed on eBay for $200, nearly five times its retail price. Yet one woman thinks she can get an even better return on the items she nabbed.
Tammy Lyn, of Tulsa, Okla., is listing a pair of the designer's rubber rain boots on eBay for $31,000. The proceeds, she claims, will cover her daughter's first year in college.
"We have lived frugally and have some savings, but like most Americans, it's just not enough to cover college, retirement, and life at this point," she explained. "Missoni mania looked like the perfect opportunity for a miracle."
The boots, which are a size 10, boast the classic Missoni multicolor zigzag pattern and retail for $34.99, but are currently out of stock in Target stores and on Target.com. Other current listings on eBay for the rain boots range from $60 to $100.
Lyn says she bought the boots in a Target store near her home and is hoping to turn them into an instant college fund for her youngest daughter who is a freshman.
The "Buy It Now" price, which includes shipping, is roughly the equivalent of her daughter's college tuition for one year, says Lyn. To cover the tuition in subsequent years, Lyn has set aside several Missoni for Target shower curtains, toss pillows and scarves.
After last week's launch of Missoni for Target was met by unprecedented demand, Target was unable to stock enough items to appease bargain-hungry fashionistas. Target has said that more items may trickle in over the coming weeks but Target will not be restocking the entire Missoni product line, according to spokeswoman Morgan O'Murray.
Many of those who were able to place orders online experienced delayed shipments or even notifications that their orders were cancelled.
Although Lyn says she was inundated with emails slamming her tactic, she called the listing "nothing more than the free market society at work" and is confident the boots will sell at a high premium.
"I've had offers for them, but I'm sticking with my listing," she said.