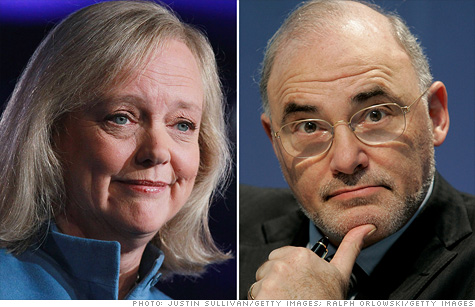 Meg Whitman (left) will replace Leo Apotheker as Hewlett-Packard's CEO.
NEW YORK (CNNMoney) -- Hewlett-Packard's board on Thursday ousted CEO Leo Apotheker after just 11 months on the job, replacing him with Meg Whitman.
"I am honored and excited to lead HP," Whitman said in a prepared statement. "I believe HP matters -- it matters to Silicon Valley, California, the country and the world."
HP's board said the company needed a change at the top. The company cut its financial outlook three times in Apotheker's tenure, and on Thursday, HP said it was not confident it would be able to meet its sales targets for the current quarter.
Shareholders sent the stock down more than 40% this year before Fortune and other outlets broke the news this week that the board was considering letting Apotheker go.
"We are at a critical moment and we need renewed leadership to successfully implement our strategy and take advantage of the market opportunities ahead," said Ray Lane, who on Thursday was named executive chairman of HP's board.
Lane was formerly an independent, non-executive chair. The company said it will look for someone to fill that independent role on its board.
The chairman said on a conference call Thursday that the board considered many candidates and decided together that Whitman was the right fit.
"I can't think of a name out there I would select as CEO over Meg," said Lane.
As the former head of European software giant SAP (SAP), Apotheker was a curious choice to lead HP (HPQ, Fortune 500) -- the largest U.S. technology company by sales -- since it is predominantly a hardware company. HP's software business makes up around 2% of the company's annual revenue, which hit $125 billion last year.
Apotheker stuck to what he knows best and decided to refocus HP on higher-margin businesses like cloud computing and software. He was particularly bullish on HP's acquisition of Palm, which was made prior to his arrival at the company. He planned to let Palm's webOS software permeate the company's various hardware lines, including PCs, phones and the much-publicized TouchPad tablet.
But the TouchPad was a failure, HP's phones weren't selling, and PC sales slumped globally. Last month, Apotheker announced yet another hard left turn: He opted to end the webOS experiment and said HP would get out of the PC business entirely -- a market that it leads both in the United States and globally.
The problem with Apotheker wasn't lack of vision as much as a lack of execution and communication, Lane said.
Whitman said Thursday that the company under her leadership would stay the course and continue to transition to an enterprise software business.
"The only thing we can do to regain investors' and customers' confidence is to execute, and that's what I intend to do," she said.
The ousting of its third straight CEO marks yet another dramatic crisis in a decade of turmoil for one of Silicon Valley's original pioneers. A year earlier, Mark Hurd was fired as HP's CEO after submitting false expense reports in what appeared to be an effort to conceal a relationship with a former employee.
In 2006, HP's chairwoman Pattie Dunn was shown the door after it was revealed that she had spearheaded a secret probe to spy on fellow board members and journalists, in an attempt to find the source of board-level media leaks.
A year before that, in 2005, then-CEO Carly Fiorina was booted out (she technically resigned, but, the move wasn't especially voluntary) after spearheading HP's the failed merger with Compaq. The company's stock price was cut in half during her tenure.
The CEO revolving door has cost the company more than $83 million in severance pay, including more than $25 million that will be owed to Apotheker.
Fending off criticism from analysts that the board is dysfunctional, Lane argued that the board is very different than the ones of the past, comprised of 8 new directors since the company ousted Hurd.
"I tell you this right from my heart," he said. "That's not this board. They work really well together."
Whitman, who is also an HP board member, was formerly the CEO of eBay (EBAY, Fortune 500). She headed the online auction site for 10 years, taking over the company in 1998 when it was in its infancy. By the time she left in 2008, the company had grown to an $8.5 billion e-commerce behemoth.
She was the Republican nominee in the 2010 California gubernatorial race, spending much of her fortune in her unsuccessful campaign. She then resurfaced several months later, when she was named to HP's board in January.
What to make of Whitman
Lane, HP's chairman, praised Whitman, saying her experience gives her the right set of skills to steer HP back on course.
"Meg is a technology visionary with a proven track record of execution," he said. "She is a strong communicator who is customer focused with deep leadership capabilities. Furthermore, as a member of HP's board of directors for the past eight months, Meg has a solid understanding of our products and markets."
Still, many analysts were scratching their heads about the choice.
"I'm not really convinced she's the best fit -- HP needs to regain the confidence of its enterprise customers, and her expertise resides in the consumer retail market," said Ron Gruia, principal consultant at Frost & Sullivan.
"She's on the board, so she's a logical interim choice, but not a person who's going to be driver for HP as it transitions to a software and services kind of model," Gruia added.
Some believe that HP is making a fatal decision.
"As if HP didn't make a mistake on bringing in Leo Apotheker, now they are making an even bigger mistake by bringing in Meg Whitman, someone with very little experience in the core areas of HP," said Vanessa Alvarez, analyst at Forrester Research.
"This is plain carelessness by the board of directors, and quite frankly, hammering the last nail in the coffin for HP. Its leadership is in the gutter. I'm appalled," she added.
But other analysts believe Whitman is capable of doing the job, albeit a very difficult one.
"She's a great communicator; a great marketer; and, an excellent manager, but she'll need to put a strategic stamp on HP," said Joel Achramowicz, senior vice president of research at Blaylock Robert Van.
"There are even more questions and concerns regarding HP exigent from both the Street and from customers. She'll have to work expediently."