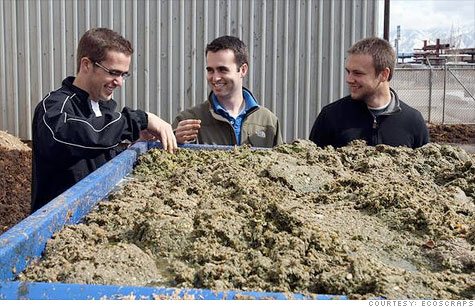 EcoScraps founders Craig Martineau (left), Dan Blake and Brandon Sargent show off their product: Compost made from trash.
(CNNMoney) -- What if you could take out someone else's trash, then sell it back to the same person who threw it away? For most entrepreneurs, that sounds like a pipe dream. For Dan Blake, it's the business model behind EcoScraps, the fast-growing startup he launched in Provo, Utah, last year.
Every day EcoScraps picks up 30 tons of old fruit and vegetables from stores across Utah and Arizona. The 14-employee company then composts the food waste and resells it as bags of organic potting soil inside those same stores: about 300 retailers including branches of Costco (COST, Fortune 500), Whole Foods (WFM) and Bashas' Supermarkets, along with smaller nurseries and garden centers. The turnover amounts to 1,000 bags of potting soil daily.
"The sales process is super-easy for us," says Blake, the company's 23-year-old CEO. "It not only saves stores money, but they can sell it back to consumers."
EcoScraps became profitable by the end of its first year, he says, and he expects it to take in $1.5 million in revenue for 2011. Blake plans to expand the model into Colorado and Washington in the coming months. He hopes to reach the East Coast in 2012.
Participating stores get free removal of produce they would otherwise have to pay to haul away. They also reap a 30% markup on each $6 bag of potting soil sold -- and they get to boast about being green, with in-store fliers touting their contributions to an environmentally sustainable product.
EcoScraps' story began with a plate of waffles. Back in 2009, when Blake was a student at Brigham Young University, he sat down for an all-you-can-eat waffle breakfast at a Provo breakfast restaurant. Soon he was stuffed. He looked at the piles of uneaten food on his and other customers' plates and thought about how all of it would end up in the trash. The restaurant had paid to have the food delivered, and just a few hours later, it would pay again to have it taken away.
"I thought, 'What if I could get someone to pay me to take their garbage and then I could reorganize it and be able to sell it to someone else?'" he recalls.
Soon he was devouring books on composting, attended composting conferences and scouring the Internet for information. What he learned motivated him: America produces 30 million tons of food waste a year.
Blake roped in two of his classmates, Craig Martineau and Brandon Sargent, to start the company. They went to local restaurants, asking if they could collect food scraps for EcoScraps to compost. The eateries said no. It wouldn't be worth the trouble to sort them out. So the three founders started dumpster diving, grabbing black trash bags full of food from behind restaurants. Before long, they were running composting experiments in 24 trashcans in the parking lot of their college dorm.
Compost based on salty fried foods from breakfast chains and local Chinese restaurants immediately killed their plants, so they began focusing on compost made up of fruits and vegetables. They tinkered with the temperature, types of bacteria and moisture levels. They paid for tests to determine the nutrient content of various compost samples. Blake financed the venture with $18,000 in personal savings plus $110,000 in business plan competition winnings and angel investments.
EcoScraps figured out how to create viable compost material in three weeks, instead of the typical six to nine months it takes most landfill composting facilities. That meant he could turn around his product rapidly and keep overhead low by using a 5,000-square-foot composting facility, which is small by industry standards.
With a few bags of potting soil in hand, Blake went directly to grocery executives to show off his product. He offered to personally drive the truck that would pick up their produce.
"Dan is just brazen," says Ron Lindorf, an EcoScraps investor and Brigham Young University professor who taught Blake in an entrepreneurship class. "It can take two years to [sell to big companies], but he just skipped all that. This kid just goes and does."
Nowadays, stores like Safeway (SWY, Fortune 500) and Wal-Mart are coming to him, says Blake. A Wal-Mart spokesman wouldn't comment on un-inked deals, but Blake says he's hammering out a contract with the company now. In March, EcoScraps started working with Safeway after the chain's managers called him. They had read about his company online and were desperate to rid themselves of the 500 pounds of unwanted produce discarded daily from the chain's Tempe, Ariz., distribution center. They had considered partnering with pig ranchers, but the farms were too far away for it to be practical.
EcoScraps' biggest challenge is picking up food before it has the chance to sit out and rot, especially in Arizona's heat. The company has hired four truck drivers and also relies on local recyclers for pickups.
"It's one less thing to throw out, which means less hauling, which means more profit for us," says Joshua Putnam, Safeway's distribution center superintendent, who said he's happy with the service so far. "They're taking trash and turning it into cash. That's kind of cool."