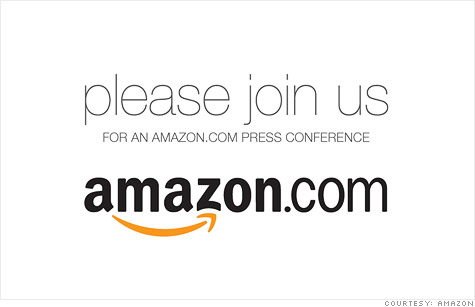 The invitation that Amazon's PR firm sent to media, announcing a press conference that's likely about the Amazon tablet.
NEW YORK (CNNMoney) -- The news that Amazon is building its own Android-based tablet has been an open secret for months. Next week, the mythical device is likely to be unleashed.
Amazon's (AMZN, Fortune 500) PR firm sent an invitation to journalists midday Friday announcing a press conference in New York City on September 28. The e-mail did not include any details, but the the date matches up with the expected timeline for the Amazon tablet's release.
For a device that hasn't yet been released, the Amazon tablet has already received a lot of media play. Earlier this month, TechCrunch's MG Siegler wrote that he had used the tablet.
The tablet runs on a tweaked version of Android, has a 7-inch tablet touch screen and is backlit, Siegler wrote, concluding that it's "going to be a big deal. Huge, potentially."
Analysts have even made sales forecasts about the yet-to-exist tablet, with Forrester analyst Sarah Rotman Epps writing way back in March that the market is ripe for disruption from Amazon.
Late last month, Rotman Epps released another report titled "Amazon Will Be Apple's Top Competitor in Tablets." Within a year, she predicts, "'Amazon' will be synonymous with 'Android' on tablets."
The key is for Amazon to "compete on price, content, and commerce," Rotman Epps says. If Amazon hits the right price point -- one that significantly undercuts the iPad -- and can keep up enough supply to meet demand, she expects Amazon's tablet will "easily" sell 3 million to 5 million units in the fourth quarter.
By comparison, Apple (AAPL, Fortune 500) sold 3.27 million iPads in the tablet's first quarter of existence. In its latest quarter, which ended June 30, Apple sold 9.3 million iPads.
If Amazon can unseat Apple as the tablet king -- or even make a dent, really -- it will have pulled off what several others have largely failed to do.
In the most extreme example, HP (HPQ, Fortune 500) killed off its TouchPad last month after just 49 days on the market. Other rivals are hanging on, but most of their devices have flopped critically and commercially.
BlackBerry maker Research in Motion (RIMM) released its PlayBook tablet in April to harsh reviews criticizing the device's unfinished feel. Two Android-based tablets -- Samsung's Galaxy Tab and Motorola's (MMI) Xoom -- debuted at prices above the iPad's $499 price point. Their sales have disappointed.