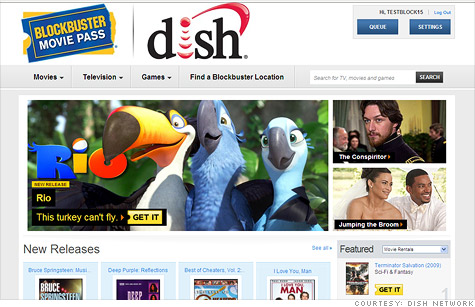 Blockbuster Movie Pass bundles Dish's traditional cable TV plan with Blockbuster's DVD-by-mail service and some streaming video.
NEW YORK (CNNMoney) -- Blockbuster was expected to launch a Netflix rival on Friday -- and it did, kind of.
"Blockbuster Movie Pass," launching October 1, bundles Dish's traditional cable TV plan with Blockbuster's DVD-by-mail service. It also includes some streaming content: a library of 3,000 movies will be available for streaming to a TV, or 4,000 if you stream to computer.
That's a small subset of the 100,000 DVDs and video games Blockbuster says it has stocked in its by-mail catalog.
The service costs $10 a month as an add-on to a Dish subscription. New customers who sign up for Dish's "America's Top 200" package for $39.99 a month -- or any more expensive service -- with a 2-year contract will receive the service for free for one year.
New subscribers who sign up for Dish's "America's Top 120" package will get Movie Pass for free for three months.
The streaming catalog includes shows from Fox, Cartoon Network, Discovery, Epix, Fox, DIY, HGTV and TBS. A more specific list of content was not immediately available.
Blockbuster has long been teasing plans to launch a streaming service to compete head-on with behemoth Netflix (NFLX), whose recent price hike has led to consumer backlash and a scaled-back subscriber forecast. Friday's move is a step in that direction, expanding Blockbuster's streaming services beyond the pay-per-rental model it currently uses.
But like Netflix, Blockbuster faces obstacles in getting monthly subscribers access to the most popular movies and TV shows. Its pay-per-rental catalog features recent releases like X-Men: First Class and Bridesmaids, priced at $3.99 for 24-hour viewing rights. Those titles aren't likely to show up in its all-you-can-watch unlimited streaming offering.
Blockbuster didn't immediately comment on what content is included in its "Movie Pass" package. The package also isn't available to non-Dish subscribers, though company executives said to "stay tuned" for later announcements on that front.
Dish Network (DISH, Fortune 500) acquired Blockbuster in April for $320 million in a bankruptcy court auction. Blockbuster's U.S. businesses filed for Chapter 11 protection in September 2010, hoping to sharply reduce their nearly $1 billion debt. The company put itself up for sale in February 2011.
Blockbuster struggled for survival ever since media conglomerate Viacom (VIA) spun off the company in 2004. Its brick-and-mortar stores were bleeding cash as traditional video renting declined, and competition from Netflix and Coinstar's (CSTR) Redbox kiosks heated up.
But Blockbuster will also face high competition in the streaming space, both direct rivals like Hulu and big tech players that are eying the space, including Amazon (AMZN, Fortune 500) and Google (GOOG, Fortune 500).
Studios and cable providers have been careful not to let any single streaming service nab all of the valuable content. As a result of carving up the streaming video market, each service offers something a little different -- and no one can boast that they let customers watch all of their favorite shows.