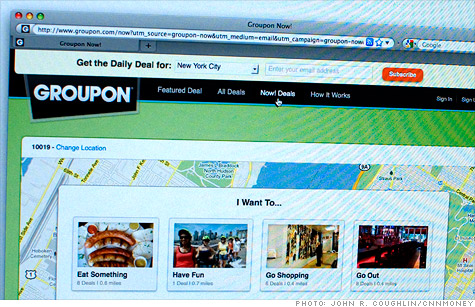 NEW YORK (CNNMoney) -- Every time Groupon revises its accounting to strip away another feat of financial gymnastics, the picture grows grimmer.
In a late-Friday regulatory filing, daily deals merchant Groupon updated its reported sales to "correct for an error" -- namely, including in its revenue the cash it has to hand back to merchants for their share of the coupons Groupon sells.
Strip away those payments, and the company's revenue numbers change radically.
For the first half of 2011, Groupon is now reporting revenue of $688 million -- a big drop from the $1.5 billion it claimed previously. For 2010, its last full year of operations, Groupon is now reporting sales of $313 million -- down from its previous $713 million.
For example, say a Groupon subscriber paid $10 for a coupon. The company might keep $5 of that and pass $5 on to the merchant. But Groupon was previously reporting all $10 as revenue.
The change didn't significantly affect Groupon's calculation of its earnings -- or, more accurately, its losses. The site said Friday that it had a net loss of $224 million in the first half of 2011.
This isn't the first time Groupon has had to back away from its accounting habits.
When Groupon filed in early June for its IPO, the company drew a barrage of criticism for its reliance on a nonstandard metric called "adjusted consolidated segment operating income." The unwieldy "ACSOI" stripped out Groupon's steep costs for marketing and acquiring new subscribers -- and it made a big difference in the numbers.
Under pressure from the Securities and Exchange Commission, Groupon re-filed last month to remove ACSOI and instead use only standard accounting procedures. That cast the site's losses into sharper relief.
In its amended filing on Friday, Groupon offered an amusing response to its critics: "The change in presentation reflects, in our view, the challenges that participants in new industries confront in the application of accounting standards."
In other words: "Math is hard!"
Groupon also slipped into its filing the news that one of its key executives, COO Margaret Georgiadis, resigned this week after five months on the job.
Groupon -- which now has 9,625 employees worldwide -- lured Georgiadis away from her previous employer, Google (GOOG, Fortune 500), to help structure the sprawling and fast growing company. Now Google has drawn her back: She's returning to the company in the newly created position of president of the Americas region.
Georgiadis won't walk away from Groupon empty handed. Though she'll forfeit most of the 1.1 million shares of restricted stock granted in her employment agreement, she'll get to keep 300,000 shares that have already vested.
Not bad for a few months' work.