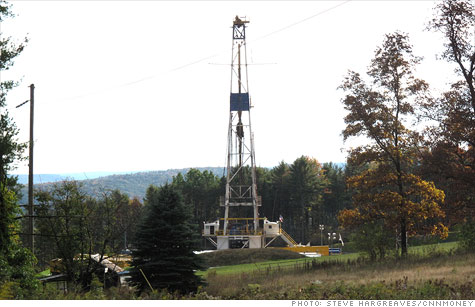 Subcommittee created by President Obama to study the impact of hydraulic fracking to release final report as early as November 18, 2011.
NEW YORK (CNNMoney) -- The subcommittee created earlier this year by President Obama to study shale gas drilling is expected to produce a final report before Christmas. The subcommittee will recommend ways that regulators and the industry can reduce the environmental impact of fracking.
New advances in drilling have made large quantities of natural gas more accessible, but the process of unlocking it from shale rock formations, which is known as hydraulic fracturing or fracking, has been met with a lot of criticism. The process injects water, sand and chemicals deep into the ground, cracking the shale and unleashing the gas.
The Shale Gas Subcommittee presented a ninety-day interim report to the advisory board on August 18, 2011 outlining the main areas of environmental concern associated with shale gas production.
The four most significant issues the group studied are: Possible pollution of drinking water from the chemicals used in fracking fluids, air pollution and community disruption in areas where drilling is underway, and the adverse impacts that shale production could have on the ecosystem.
The report also outlined recommendations to reduce the environmental impacts of fracking including, making information about production more readily available to the public, creating a Shale Gas Industry Operation organization, and improving safety and environmental performance of the companies involved in drilling for gas.
According to John Deutch, chairman of the Shale Gas Subcommittee of the Secretary of Energy's Advisory Board, the final report could be released as early as November 18, 2011.
"This report will focus on clarifying recommendations in the phase I report and identifying recommendations that deserve priority for implementation by federal government agencies, state regulators and industry," said Deutch.
Correction: The subcommittee preparing the final report is part of the Secretary of Energy's advisory board, not a congressional committee.