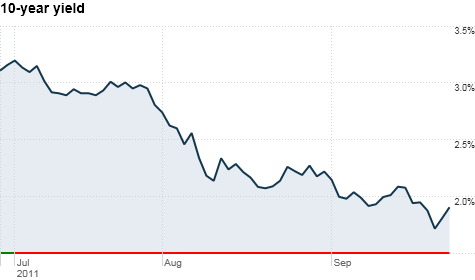 The 10-year Treasury yield has fallen to record lows as investor fears shift from inflation to deflation. Click chart for more on bonds.
NEW YORK (CNNMoney) -- Suddenly, investors and some economists are worried about deflation once again.
Deflation, a broad drop in prices, was not on the radar most of this year, as increases in the price of essentials such as oil, food and cotton left U.S consumers struggling with the highest inflation rate in three years.
But there are now concerns that a looming slowdown in the global economy could cut into demand so much that falling prices will be the bigger danger than rising prices.
Prices of copper, oil and other commodities have been plunging on worries of reduced demand for those basic raw materials. Gold, traditionally a safe haven in volatile markets, suffered its largest single day price decline since 1980 on Friday.
The difference in yields on Treasuries and the inflation-adjusted bonds known as TIPS also has narrowed sharply in the past two months. On July 1, the spread pointed to a 2.3% inflation rate over the next year, a level above the Federal Reserve's target for acceptable inflation. Now, the expectation is for less than 1% inflation over the next year.
That suggests that the drop in bond yields to record lows last week wasn't just because of Federal Reserve's so-called "Operation Twist" or a flight to quality on Europe fears. It may also be due to a change in investors' inflation expectations.
Deflation is always a major fear of economists, because once prices start to fall, they can enter a downward spiral that causes the economy to slam into reverse. The Great Depression and Japan's so-called "Lost Decade" are two times when deflation took hold firmly.
Businesses that can no longer charge a price that covers the cost of their goods or services cut back, which leads to widespread job cuts. And consumers tend to hold back on purchases because they anticipate even lower prices to come.
"Once the deflation genie is out of the bottle, once the psychology takes hold, you're screwed," said Barry Ritholtz, CEO of Fusion IQ. "It's much more difficult to fix than inflation."
While it's clear that deflation hasn't started yet, some experts worry that the weakening economy is at risk of falling into a downward spiral.
Ritholtz puts the chance of deflation taking hold in the next year at 50-50. Others don't put the risk anywhere near that high, but they say there's a greater chance of deflation than there was only a month or two ago.
"It's nowhere the magnitude of risk we were facing in 2009 or early 2010," said Kevin Giddis, managing director of fixed income at Morgan Keegan. "But it all rides on Europe. If Greece's sovereign debt problems become an all-out contagion, then deflation is on. You'll see plunging global growth along with most commodity prices."
Scott Sumner, professor of economics at Bentley University, said that while lower prices might sound attractive to consumers, it can hurt them more than it helps them by weakening the overall economy.
"Nobody likes higher gas prices, but higher prices for things produced here would lead to more output, more jobs," he said. "We can't keep the economy constantly depressed because we're afraid that stronger growth would mean higher oil prices."