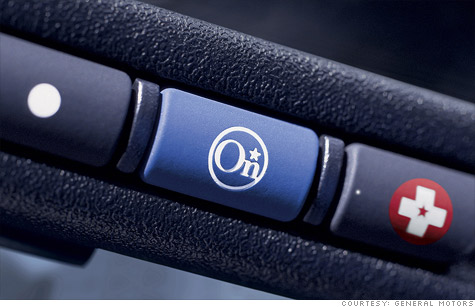 General Motors OnStar division said it has decided not to collect driving data from subscribers who have canceled the service.
NEW YORK (CNNMoney) -- General Motors' OnStar division announced Tuesday that it has changed course and decided not to collect driving data from customers who have canceled their OnStar subscriptions.
OnStar provides a variety of services, including vehicle diagnostics, driving directions and automated 911 calls, to owners of mostly GM vehicles. And it recently told subscribers that it reserved the right to track and sell information about their vehicles' location and speed even after the owner stopped subscribing to the service.
That decision resulted in an outcry that included a request by New York Democratic Senator Charles Schumer for a Federal Trade Commission investigation.
"OnStar announced today it is reversing its proposed Terms and Conditions policy changes and will not keep a data connection to customers' vehicles after the OnStar service is canceled," OnStar said in its Tuesday announcement.
OnStar, which has around 6 million subscribers, relies on GPS tracking and other systems built into the car.
Tracking data from nonsubscribers would have allowed OnStar to alert vehicle occupants about severe weather emergencies, mandatory evacuations or recall issues, Joanne Finnorn, OnStar's vice president for subscriber services had said prior Tuesday's announcement. It also would have allowed GM to capture data that it could use for "future product development."
GM (GM, Fortune 500) offers OnStar free for an initial trial period on most of its vehicles. After that, owners must pay a monthly subscription fee to continue using it.
OnStar's terms grant it the right to collect a variety of information about a subscriber's car, including its location and speed and whether or not a mobile device like a Bluetooth-enabled phone is connected to the car's systems.
OnStar also reserves the right to sell "anonymized" information collected from vehicles to outside companies. "Anonymized" data is aggregated and cannot be traced back to any individual vehicle or person.
General Motors has recently begun selling a boxed version of the technology called OnStar FMV that can be installed on non-GM vehicles.