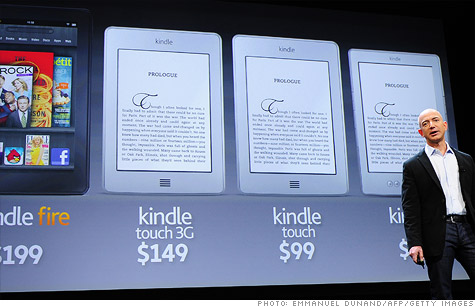 Amazon CEO Jeff Bezos shows off the new crop of Kindles.
NEW YORK (CNNMoney) -- After months of speculation, it's here: Amazon's tablet, the $199 Kindle Fire, was unveiled Wednesday.
Smaller and cheaper than Apple's dominant iPad, the Kindle Fire has a 7-inch display and runs on a heavily customized version of Google's (GOOG, Fortune 500) Android operating system. The tablet offers Wi-Fi connectivity, but no 3G or other cellular connection. It also lacks a camera and microphone, two features found in most rival tablets.
But the Kindle Fire isn't trying to be an all-in-one computing device. Amazon's focus is on media consumption, like reading books and magazines as well as watching video and streaming music. The tablet includes a 30-day free trial of Amazon Prime, the company's $79-a-year service that includes two-day shipping and some free streaming video access.
Priced at less than half the $499 starting price of an iPad, the Kindle Fire aims to undercut Apple's wildly popular tablet, which has sold 28 million units since its 2010 debut. The iPad's momentum is picking up: Apple (AAPL, Fortune 500) sold a record 9.3 million iPads in its latest quarter.
Amazon will begin taking Kindle Fire orders on Wednesday, and will start shipping the device on November 15. At $199, the device will be slightly cheaper than Barnes & Noble's similar Nook Color, a $249 tablet that made its debut 11 months ago.
"We're making millions of these," Amazon CEO Jeff Bezos told the audience at a New York City press conference.
"The price is shockingly low," Forrester analyst Sarah Rotman Epps said after the price tag was unveiled. "That's why they went with the smaller screen -- it's cheaper to make."
Rotman Epps previously estimated that Amazon could be the first significant Apple competitor in the tablet market, selling 3 million to 5 million of its tablets this year.
She said Wednesday that she now anticipates sales in the lower end of that range.
"They're not selling until November 15, so that's a little late for the holidays," she said. "That has a negative effect on estimates."
Shares of Amazon (AMZN, Fortune 500) rose 2.5% to end the day at $229.80.
Bezos also unveiled a new version of Amazon's classic e-ink Kindle, now called the Kindle Touch. The new version lacks a keyboard -- a first for Amazon -- and is smaller and lighter than past models.
"One of the things about building a purpose-driven device for reading is that you can obsess over the details that are important for readers," Bezos said.
The Kindle Touch will cost $99 for a Wi-Fi-only version with sponsored ads, or $139 for an ad-free version. A Kindle Touch 3G, with free cellular service, will cost $149 for a sponsored version, or $189 without ads. Both begin shipping November 21.
Fans of the Kindle's keyboard are still in luck: Amazon is keeping a Kindle Keyboard device in its lineup, priced at $139 for a Wi-Fi version ($99 with ads) or $189 for a 3G version ($139 with ads). Those devices are available and shipping now.
Bezos had one more Kindle on offer: A stripped-down, entry-level version priced at $79, which began shipping on Wednesday. That Kindle -- Amazon's tiniest, weighing in at less than 6 ounces -- carries sponsored ads. A $109 version is available without the ads.
Amazon also launched Amazon Silk, a new Web browser for the Fire that Amazon billed as a cloud/hardware hybrid. Drawing on the power of Amazon's EC2 cloud system, Silk runs some browser functions locally on the tablet and some remotely in the cloud.

The browser draws on its cloud operations to predict what page a customer is likely to call up next.
"For example, a lot of people who go to nytimes.com go right to the business page," Bezos offered up as an example. "So it takes this aggregate user data and [essentially loads the page] before you request it."
The tablet battlefield: If Amazon can unseat Apple as the tablet king -- or even make a dent, really -- it will have pulled off a victory where other power players have failed.
In the most extreme example, HP (HPQ, Fortune 500) killed off its TouchPad last month after just 49 days on the market. Other rivals are hanging on, but most of their devices have flopped critically and commercially.
BlackBerry maker Research in Motion (RIMM) released its PlayBook tablet in April to harsh reviews criticizing the device's unfinished feel. A major software update is due out soon, which RIM says will fix some of version one's flaws.
Two Android-based tablets -- Samsung's Galaxy Tab and Motorola's (MMI) Xoom -- debuted at prices above the iPad's $499 price point. Their sales have disappointed.
And so the iPad has remained largely the only game in town. A report last month from R.W. Baird said that about 93% of current tablet users are iPad owners, and 94% of potential buyers are looking at the iPad.
Meanwhile, analysts have been dialing back their forecasts about the tablet market's diversity. Earlier this year, IHS iSuppli predicted that Apple's tablet market share would drop below 50% in late 2012. Last month, the firm backpedaled and said that won't happen until 2014.