Barnes & Noble unveils color Nook with touchscreen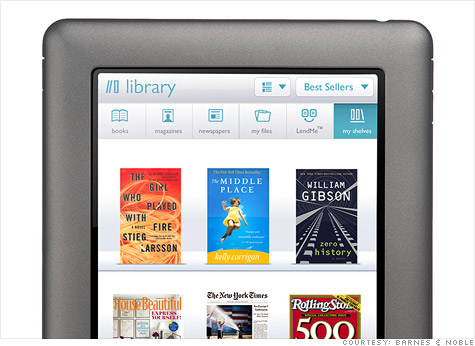 NEW YORK (CNNMoney.com) -- Barnes & Noble unveiled a new full-color, touchscreen version of its Nook e-reader Tuesday in New York City.
The new version, priced at $249, will begin shipping on or around Nov. 19, and is now available for pre-order. Unlike Barnes & Noble's current Nooks, the new one won't have a 3G network connection. It will only be able to get online through Wi-Fi.
The NookColor is latest strike in an ongoing price and hardware battle among e-reader manufacturers -- and a bold move away from E-Ink, the technology Amazon and other booksellers insist makes for a better reading experience. E-Ink boasts a backlight-free display and reflects light like regular paper does. It's more comfortable to read for hours, but it's far less flexible and much slower than a traditional touchscreen display.
The NookColor is powered by Google's Android operating system. It's a half-inch thick, weighs less than a pound, and has a "laminated" screen that minimizes glare, according to Jamie Iannone, Barnes & Noble's digital product head. The battery allows up to eight hours of continuous reading, and the gadget's 8 GB of internal memory can hold around 6,000 books.
Barnes & Noble played up the NookColor's social features and interactivity. A new developer platform invites creators to build "reading-centric apps," and readers can recommend books to friends on Twitter and Facebook with the tap of a button.
The company is particularly targeting parents and young readers with its new gadget: A new catalog of children's books will launch with "hundreds" of picture books, plus 11,000 chapter books. Interactive childrens' books will let kids play with animation, and a "read to me" button has a professional narrator read the children's story.
A tense battle: The original Nook launched last November with a black-and-white E-Ink screen for reading text, and a smaller color touchscreen for browsing book titles. Prices range from $149 for a Wi-Fi-only version to $199 for the Nook 3G, which can connect to cellular networks.
Barnes & Noble said it will continue to enhance its existing Nook technology, including enabling faster page turns. Those devices will remain part of the Nook portfolio.
"We think there's a sector of users who want E-Ink only," Barnes & Noble CEO William Lynch said.
The iPad's April debut cast doubt on the long-term survival of dedicated e-readers. For a starting price of $500, the iPad offers e-book apps plus broader multimedia features for Web surfing and watching videos. Apple (AAPL, Fortune 500) sold 7.5 million iPads in the gadget's first six months.
But competition is still hot. Amazon's Kindle has largely dominated the e-reader space, relegating the Nook, the Sony Reader and Borders' Kobo to also-rans. Amazon consistently refuses to divulge Kindle sales, resorting instead to vague press releases -- which most analysts take as a sign that sales aren't earthshattering. Still, the Kindle is believed to have sold several million units in its three years on the market.
"Nook has sold well over a million units, and we're on our way to a million more," Lynch said.
Barnes & Noble (BKS, Fortune 500) has a vast retail network, but it's been the underdog in the e-reader fight against Amazon.
On top of a two-year head start, Amazon has a much larger catalog of e-books -- and they're often cheaper than they are at Barnes & Noble, an issue that has drawn scrutiny from consumer advocates who suspect Amazon and Apple have negotiated some potentially unfair pricing deals.
Barnes & Noble is a major bookseller competing with tech companies, but its Tuesday announcement indicates it views the e-reader fight as one that will be won on technology -- not content.
On that front, it lags its rivals. Barnes & Noble touts its "2 million plus titles available" for the Nook, but a giant chunk of those books are pre-1923 texts that are in the public domain. Amazon (AMZN, Fortune 500), on the other hand, doesn't include public domain titles when it says there are 750,000 books in its catalog.
Price fights: Amazon and Barnes & Noble both slashed their readers' prices in June, after the iPad debut in April.
Prices have continued dwindling since then. Ahead of Barnes & Noble's event, Borders announced on Monday that would it cut the price of its entry-level E-Ink Kobo reader to just $99.
But the $250 NookColor price tag is here to stay, B&N CEO Lynch pledged at the launch -- even if Amazon races out with a cheaper, touchscreen Kindle.

"We're not thinking of lowering the price anytime soon, no matter what happens," he said.