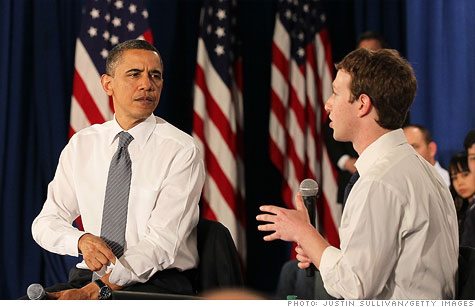 President Obama and Facebook's Mark Zuckerberg: The social media giant now has two congressmen asking the FTC for an investigation.
NEW YORK (CNNMoney) -- You can add two influential members of Congress to the list of people upset with Facebook over the social network's latest privacy flap.
Reps. Ed Markey of Massachusetts and Joe Barton of Texas fired off a letter to the Federal Trade Commission on Wednesday, asking for an investigation of Facebook's business practices.
In the letter, Markey and Barton take issue with Facebook's practice of gathering information about the websites its users visited even after users logged out.
"We believe that tracking users without their knowledge or consent raises serious privacy concerns," the letter said.
"When users log out of Facebook, they are under the impression that Facebook is no longer monitoring their activities. We believe this impression should be the reality," Markey and Barton added.
Earlier this week, an Australian tech blogger reported that even after logging out of Facebook, the website was collecting information about websites visited by the user.
The information was gathered by small files called "cookies" that websites commonly leave on a user's computer. But some cookies were sending data to Facebook even after the user had logged off.
Markey and Barton are concerned about how quickly the social media giant will address the problem, and said in the letter that Facebook should "consider this problem a top priority and should allocate the resources necessary to safeguard consumers in an expedited fashion."
A spokesman for Facebook said that "there was no security or privacy breach?Facebook did not store or use any information it should not have." The spokesman added that three cookies on some users' computers "inadvertently included unique identifiers when the user had logged out of Facebook."
The Facebook spokesman also said that it did not store this information for logged out users and "could not have used this information for tracking or any other purpose." Nonetheless, the spokesman said that once Facebook was notified of the issue, it "moved quickly to fix the cookies so that they won't include unique information in the future when people log out."
While it's not yet clear if the FTC will launch an investigation, the congressmen said the violation falls within the agency's mandate to protect Americans from "unfair and deceptive acts or practices."