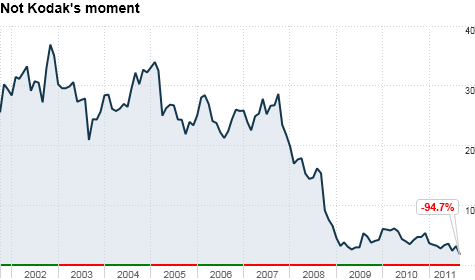 Shares of Kodak have plummeted in the past decade as sales of traditional film dried up. Analysts say the company's best chance of a turnaround now lies in its patents.
NEW YORK (CNNMoney) -- Kodak is one of the most recognizable brands in American history. But the 119-year-old company has fallen on such hard times that some investors are now questioning if it can survive.
Shares of Eastman Kodak (EK, Fortune 500) have plunged more than 65% this year and trade for less than $2. Kodak lost more than a quarter of its value on Monday alone after the company disclosed that it needed to tap $160 million from a pre-existing $400 million credit line.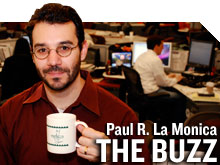 Making matters worse, rating agency Moody's downgraded several Kodak debt securities late Tuesday. That pushed Kodak even deeper into "junk" status.
Moody's cited "ongoing weakness in the company's core business operations in addition to a softening demand environment" as the primary reason for the downgrade.
Translation: Fewer people were buying old-school cameras even when the economy was in good shape. The global slowdown just adds insult to injury.
Kodak had nearly $1 billion in cash at the end of the second quarter. But Moody's analysts predict Kodak's cash balance could dip below $700 million sometime in 2012.
Kodak's fortunes have been on the wane for obvious reasons. We live in a digital world. When's the last time you took a roll of film to a store to get developed? Probably the last time you bought a physical CD instead of downloading it.
But it's astonishing just how swiftly Kodak has fallen from grace. The company was a component of the Dow Jones industrial average as recently as 2004. It was only booted from the S&P 500 last December.
So is there any hope for Kodak? Yes. But investors need to be extremely careful.
Dave Novosel, an analyst with Gimme Credit, an independent fixed-income research firm in Chicago, said Kodak's consumer and commercial printer business should start generating strong sales and profits from new products in the latter half of 2012 and early 2013.
But Kodak needs to find a way to stop the bleeding until then. Wall Street analysts are predicting that Kodak will report a net loss of $638 million this year and another $215 million in red ink for 2012.
Novosel said Kodak's decision to access its credit line now is particularly alarming since the fourth quarter is typically when it generates a decent chunk of cash.
"The drawdown indicates to me that their financial flexibility is more limited than people had thought just a month ago," he said. "The fourth quarter is usually their best quarter."
If there's any reason to be optimistic about Kodak, you have to look at its intellectual property.
Kodak has been increasingly relying on licensing for revenue. The company also announced in July that it is exploring the sale of more than 1,100 patents tied to digital imaging.
Tech giants have been spending big bucks to arm themselves with patents. A group led by Apple (AAPL, Fortune 500) and Microsoft (MSFT, Fortune 500) paid $4.5 billion for patents from bankrupt Canadian networking equipment firm Nortel in July.
Not to be outdone, Google (GOOG, Fortune 500) agreed to buy smartphone maker Motorola Mobility (MMI) for a whopping $12.5 billion in August. The deal's catalyst was Google's desire to get its hands on Motorola's patents.
Mark Kaufman, an analyst with Rafferty Capital Markets LLC in New York, said Kodak's patents could be worth between $2 billion and $2.4 billion in a sale. To put that into context, Kodak's market value is now just $470 million.
But Novosel said betting that Kodak may hit the patent jackpot is highly risky.
The value of Kodak's patents may depend on a favorable court ruling from the International Trade Commission. Kodak has been embroiled for more than a year in a patent infringement case with Apple and BlackBerry maker Research in Motion (RIMM) over image previewing technology. Various court rulings have alternately gone against and in favor of Kodak, and a final decision from the ITC is still pending.
Kaufman thinks Apple and RIM will eventually follow the lead of Sony, Samsung and other gadget makers that have settled similar cases with Kodak. That could be a big victory for the company.
"Cameras in cell phones were a blessing and a curse for Kodak. It killed the traditional film business, but licensing is a tremendous opportunity," he said.
But the Moody's analysts noted in their downgrade that "the timing or amount, if any, of cash received from IP licensing negotiations, litigation ... or outright sales ... is speculative to predict or quantify."
Nonetheless, Kodak still has some influential institutional investors backing the stock. As of mid-year, the largest owner of Kodak is mutual fund firm Legg Mason, followed by mega money managers BlackRock and Vanguard.
Interestingly, the Bill and Melinda Gates Foundation also owned nearly 6 million shares, according to the organization's mot recent holdings data. That makes the charitable arm of the Microsoft co-founder and his wife one of the company's 10 largest holders.
But patience may be wearing thin. Although Legg Mason is still the biggest Kodak investor, its most well-known fund manager, Bill Miller, finally sold his stake in Kodak earlier this year.
Miller, famous for a 15-year streak of beating the market that ended in 2006, had stubbornly stuck with Kodak even as the performance of his Legg Mason Value Trust (LMVTX) has lagged the market badly in the past five years.
Kodak longs -- as well as those with a penchant for nostalgia -- hope Kodak will make it through its transition.
Paul Simon immortalized the company's most popular (and now defunct) brand of film in his song "Kodachrome." If you ask me, "When I think back on all the crap I learned in high school" is one of the greatest opening lines of a pop song ever.
It would be too bad if today's kids look back at the demise of Kodak as one of the things they learned about in high school.
The opinions expressed in this commentary are solely those of Paul R. La Monica. Other than Time Warner, the parent of CNNMoney, and Abbott Laboratories, La Monica does not own positions in any individual stocks.