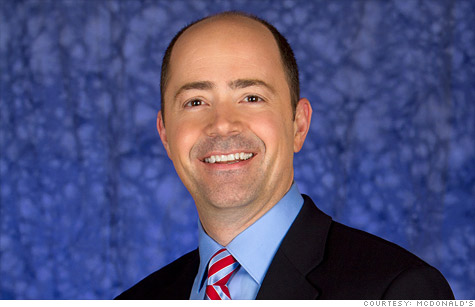 Steve Russell is the senior vice president and chief people officer for McDonald's USA and oversees all hiring in the United States for McDonald's.
NEW YORK (CNNMoney) -- Most job search advice is offered by so-called 'experts' who aren't actually responsible for hiring anyone. But hiring managers at major employers are on the front lines of the job market crisis. They screen thousands of applicants a week and are in a unique position to reveal what job seekers are doing wrong, and what candidates can do to get hired now, even in an ultra-competitive job market.
The following are edited excerpts from an interview with Steve Russell, senior vice president and chief people officer for McDonald's USA, who oversees all hiring in the United States for McDonald's.
CNNMoney: McDonald's has many job opportunities. Give us a sense of the scope of open jobs.
Steve Russell: We are hiring in so many areas ... including operations, real estate, legal, HR, finance, security, IT and more. We have a wide variety of open jobs, all over the U.S., that go far beyond retail.
What is most creative thing you have seen a job candidate do to get hired?
I have seen a few creative applications. In a previous job I received a résumé with a pizza. Once, my wife applied for a teaching position and sent her résumé in a brown paper bag with a note that stated, "You have the right teacher in the bag!" (She got the interview). Most important though, I believe the best approach to prove you are the right match for a position is in your ability to convey your experiences and accomplishments in a crisp and impactful way and by demonstrating your knowledge of the position, the company and the industry.
What is the best question that a candidate has asked you in a job interview?
"What would you like to change about working at McDonald's? "
How did you get started at McDonald's?
A former colleague told me about an open position at McDonald's 15 years ago. As I was going through the interview process and was offered a position at McDonald's, I was also presented with an offer from another company, which, at the time, would have given me a larger base salary. However, I saw the culture at McDonald's for what it truly was -- one where results are rewarded and career growth is boundless. Since then, I have found a world of opportunity and a company that succeeds as a result of rock solid values and tremendous people.
Best hire you've made in past years? Any really creative, inspired effort by a job seeker?
The vast majority of the hires I make are individuals that have a track record of inspired effort and great results. They come to the interview with a point of view about the industry, the company and the position. Their point of view is authentic -- they're not telling me what they think I want to hear to get the job or the promotion. Trust me, this is pretty easy to see right through. They are authentic about their strengths as well as their areas of development.
What are the most common mistakes job seekers make, and how can they fix them?
Two big mistakes: First, they are not authentic in the interview. You need to be able to talk crisply about prior accomplishments, strengths and what you are doing to turn your opportunities into strengths. Second, candidates often don't know enough about our company. Do the research to understand the organization's core products/services and values.
What is your favorite thing you have hanging on wall of your office?
The quote, "If you hold up your head with a smile on your face and are truly thankful, you are blessed because the majority can, but most do not."
What is most surprising to you about your job?
The opportunity I have to positively impact the lives of more than 750,000 people that work under the arches every single day.
What do enjoy doing when you are away from the office, and want to take a break from résumés and the pressures of staffing?
My current job covers all aspects of HR and training for our U.S. business. When I am not at work I love doing just about anything with family. I also love to listen to all kinds of music and follow my favorite sports teams -- Cleveland Indians, Browns, Ohio State Buckeyes and the Chicago Blackhawks.
Steven Greenberg is the founder of Jobs4.0, which helps major employers recruit job seekers over 40.