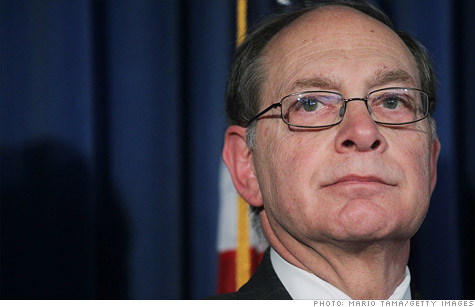 Irving Picard the trustee recovering money from Bernard Madoff's Ponzi scheme said that victims expecting their first checks, totaling $272 million, will have to wait.
NEW YORK (CNNMoney) -- The victims of Bernie Madoff are going to have to wait a little longer to get their first taste of monetary justice.
Victims with valid claims had been slated to get their first checks -- a total of $272 million -- on Friday. But a ruling made earlier this week has put all that on hold.
On Tuesday, a federal judge dismissed most counts of a $1 billion suit against the owners of the New York Mets baseball team that stemmed from the club's involvement in the Ponzi scheme.
Judge Jed Rakoff dismissed 9 of 11 charges in the case, which is being heard in U.S. District Court in New York.
Now, that money will be much harder for Irving Picard -- the trustee in the case -- to recover. And that's has thrown a wrench into Picard's calculations.
Picard said in a statement Thursday that the ruling "has raised several issues that require a thorough evaluation of the impact, if any, on the amount available for distribution."
The majority of the 16,518 investors who filed Madoff claims with the trustee have been rejected. More than 10,000 of those investors had their money in so-called feeder funds, rather than having given it directly to Madoff.
Thousands of other investors were rejected -- and some of them have also been sued by Picard -- for being "net winners." That is, they withdrew more money than they invested with Madoff.
Those with valid claims have been waiting quite a while to receive compensation.
"We know how difficult this delay is for those who have waited so long to recover the money they lost to Madoff," David Sheehan, chief counsel to the trustee, said in a statement.
Sheehan said he was continuing to "evaluate all possible issues" connected to Rakoff's ruling.
"We are committed to completing this analysis quickly and moving forward with this important distribution as soon as we possibly can," he said.