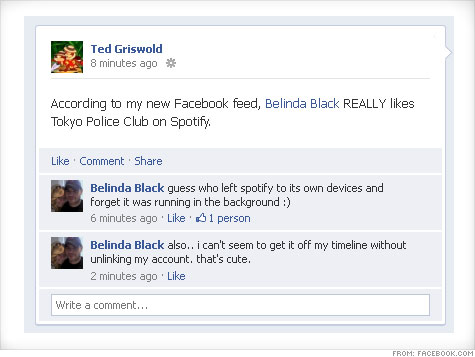 CNNMoney webmaster Belinda found Spotify sharing much more than she intended in Facebook's ticker -- and cutting the updates off to protect privacy was tricky.
NEW YORK (CNNMoney) -- Go install streaming music app Spotify on Facebook. Now brace yourself for a flood of comments and quips about your musical tastes -- including the track you fired up just seconds ago.
One week after Facebook rolled out major changes across its website, users are starting to wrap their heads around just how much data the site's new "social" apps broadcast. The answer: Everything.
Every track you listen to on Spotify. Every story you read on Yahoo (YHOO, Fortune 500) News. Every video you watch through "Hulu on Facebook."
Those running updates show up in three places. First, they scroll through Facebook's new real-time Ticker, a column of short news blasts. Some of the updates show up in your friends' News Feed pages. Finally -- and most dramatically -- they have a featured spot on the new Timeline page that will soon replace Facebook's existing Wall and Profile pages.
Right now, only developer accounts and some early adopters have Timeline pages, but Facebook plans to roll the Timeline feature to all of its 800 million users in the coming weeks. When it does, members could be surprised by just how detailed their updates get.
For example: Reading an article on Yahoo.com sends an update back to Facebook if you have the "social sharing" feature turned on. E-book reader Kobo is readying "Kobo Pulse," an app that will broadcast what you're reading every time you fire up a book.
What if you don't want to share?
"We think that there will be a class of apps and a number of verticals that are designed around being social," says Carl Sjogreen, Facebook's director of product management. "If you don't want to use it in a social web, don't use that app. The entire purpose is to share with your friends."
Spotify is the most extreme example of the looming forced-sharing trend. The company moved this week to require new users to sign in with a Facebook account. If you don't want to use Facebook, you can't use Spotify.
"We already use Facebook as part of our backend to power our social features and by adopting Facebook's login, we've created a simple and seamless social experience," a Spotify representative said.
Spotify notes that you can adjust your preferences and sever the Facebook sharing connection. But that requires rooting around in settings -- by default, users are opted in.
That sparked a quick backlash.
"You've lost my trust, so for now I'm keeping my Spotify account and Facebook account separate," one user wrote on Spotify's blog.
"I stupidly agreed to the new changes which publish every song I listen to at the top of everyone's news feed," another wrote. "After realizing I don't want this to happen any more, I've tried to revert back to just being able to see my Facebook friends at the side of Spotify so I can look at their playlists and they mine, but it's impossible."
That complaint hits the nail on the head: Most of these privacy settings can be adjusted, but it's not intuitive. (Early Thursday morning, Spotify responded to users' critcism by adding a "Private Listening" mode that temporarily stops transmitting your playlist. The setting lasts until you next log in.)
Facebook has left it up to each individual app maker to set their own privacy defaults -- which means Facebook users can't set one global "do this for all my apps" policy.
By default, most apps of the new social apps choose to broadcast your movements quite broadly. For example, take the Guardian's new social news app. If you install the app without customizing anything, it will broadcast what you're reading to anyone in your "friends and networks" list -- which means people who aren't on your friends list, but share a "network" like your workplace or college, can see what you've read through the Guardian's app.
Want to broadcast your reading choices to absolutely no one? That option isn't available as a one-click setting. Getting there requires a kludge: On the app's "this activity is visible to" list, choose "Custom." That brings up another drop-down list: "Make this visible to." Choose "Only Me" -- but don't forget to also uncheck all the networks that are listed.
To make changes to the settings on apps you're already using, click the "Home" button on the top of Facebook's page, and choose "Privacy Settings." Then click "Edit Settings" for "Apps and Websites" -- and be prepared to root around in the settings for every single app you have installed.
Making things even trickier: Each app maker sets their own policies on where and how they choose to track your actions.
"App developers can decide what activity they want to publish -- for example song or album names in a music app, or the food you recommend in an app like Foodspotting," Facebook said in a written statement. "They can also offer a control right in the experience to turn sharing on and off. When first installed, apps explain what time of activity will be shared and how it will appear on Timeline."
For example, Hulu only broadcasts messages about the videos you watch through its "Hulu for Facebook" application. It doesn't currently send back to Facebook messages about what you watch on Hulu.com.
But Spotify sends out Facebook status messages about the songs users stream through its desktop and mobile apps. Likewise, Yahoo takes the approach that its website is the app. Go to its Facebook app page, click "Go to App," and you'll be redirected on to Yahoo.com. Link your Facebook account up and every story you read on Yahoo.com will show up in the Facebook Ticker unless you switch your "Social" setting to "off."
This is by design. It's exactly how Facebook wants the Web to work.
"We think this is going to make it so that you can make an order of magnitude more connections than you could before," Facebook founder Mark Zuckerberg said at last week's f8 developer gathering.
Media apps -- TV, movies, music, news and books -- are just the first step.
"The next is what we call lifestyle apps. They're apps for helping you keep track of and expressing all kinds of different things about your life. Your runs, your bike rides, your cooking and eating, your sleeping, your happiness, your fashion -- anything you want."
What if you don't want? There's one surefire way to stop all the sharing: Delete your Facebook account.
To turn your account off, go to the "Home" menu at the top of Facebook and click "Account Settings." From there, click "Security" and then "Deactivate your account."
But even that won't wipe out your account data. Facebook keeps it saved in case you change your mind and want to come back.
To drop the nuclear bomb on your Facebook account and obliterate it for good, you have to use Facebook's "Delete My Account" form and submit a special request.
Do that, though, and you'll be swimming against the tide. Even as its privacy issues grow thornier and more complex, Facebook's audience keeps expanding.
That's another stat Zuckerberg dropped into his f8 speech: Just last week we had a pretty cool milestone at Facebook. For the first time ever, in a single day, we had half a billion people use Facebook."
All 500 million of them are about to start doing a whole lot more sharing -- whether they realize it or not.