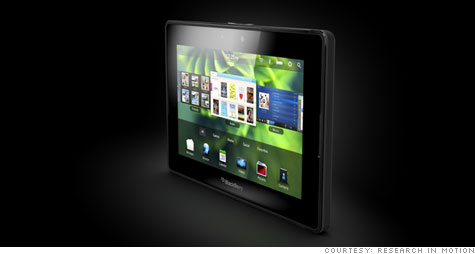 NEW YORK (CNNMoney) -- Let the price cuts begin. A few hours after Amazon unveiled its Kindle Fire tablet for $199, the BlackBerry PlayBook tablet was slashed by $200 by a major retailer.
Best Buy's (BBY, Fortune 500) site showed a $200 discount for all three PlayBook models on Wednesday night. The 16GB PlayBook fell to $299 from $499; the 32GB is now $399; and the 64GB model is $499. The 16GB model was on backorder from Best Buy as of Thursday morning.
Earlier this week, Office Depot and Staples began offering their own PlayBook deals. Office Depot knocked $100 off each model and threw in a $100 store gift card. Staples also reduced prices by $100 and added a $100 prepaid debit card that can be used anywhere.
Price cuts presaged the death of another struggling tablet. Hewlett-Packard (HPQ, Fortune 500) slashed $100 off the price of its $499 tablet, the TouchPad, almost immediately after its July launch. But the price cut wasn't enough: After only 49 days, HP killed off the TouchPad last month.
When faced with a choice between an Apple iPad for $499 or another tablet for the same price, consumers are overwhelmingly choosing the iPad. Apple currently holds a 93% share of the tablet market.
Now that Amazon is attacking the low end of the market with the $199 Kindle Fire, which starts shipping November 15, everyone not named Apple expects to feel the crunch. Last year, an e-reader price war broke out between Amazon, Barnes & Noble (BKS, Fortune 500) and the Borders-backed Kobo. The PlayBook cut could be the opening salvo in a similar tablet battle.
The PlayBook, made by Research in Motion (RIMM), has struggled to make its mark. Early reviews largely panned the PlayBook, criticizing the tablet's "unfinished" feel.
The device has sold sluggishly since its April debut. Last quarter, RIM shipped just 200,000 PlayBooks -- a significant drop-off from the 500,000 shipped in the prior quarter. By comparison, Apple (AAPL, Fortune 500) sold 9.3 million iPads in its latest quarter, which ended June 30.