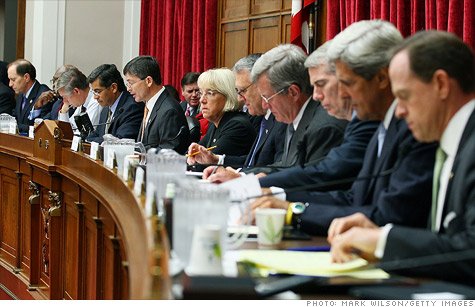 The 12-member bipartisan debt committee has until Nov. 23 to make its recommendations for deficit reduction to Congress.
NEW YORK (CNNMoney) -- Automatic spending cuts.
That's the threat facing lawmakers if the special debt committee fails to propose at least $1.2 trillion in deficit cuts, or if Congress rejects its proposals.
Of course, many people think the process will fail.
After all, many Republicans are still unwilling to vote through tax increases, and many Democrats are unwilling to cut spending on entitlement programs without revenue hikes.
Sure lawmakers could defy expectations. But if they don't, many assume the federal budget will be cut across the board and automatically.
Well, that's not quite right. It's definitely not across the board, and it may not be automatic.
First off, the Budget Control Act, which set up the so-called super committee, exempts programs that benefit low-income Americans, such as Medicaid, Social Security and food stamps. It also puts a 2% cap on any Medicare cuts.
For the rest of the budget, government would end up spending roughly $900 billion less on federal services over nine years, while saving about $170 billion in interest, the Congressional Budget Office estimates.
Here's how the cuts would break down:
Defense: $454 billion
Nondefense discretionary programs such as education: $294 billion
Medicare: $123 billion
Other nondefense mandatory programs such as farm subsidies: $47 billion
It's not clear which programs within each category would be cut. Those decisions ultimately would be made by the appropriations committees in Congress, said James Horney, vice president of federal fiscal policy at the Center on Budget and Policy Priorities.
Spending on defense procurement and defense research and development could be hardest hit, said longtime budget expert Stan Collender. His reasoning: It's unlikely lawmakers would opt to cut much from military pay and other defense personnel expenses.
Collender also believes education, transportation and aid to state and local governments could be hit hard as well, since they make up a large piece of the nondefense discretionary pie.
All told, the spending cuts would disproportionately slice the discretionary side of the budget, which only constitutes one-third of federal spending.
And they would come on top of $917 billion in deficit reduction already enacted under the Budget Control Act. The bulk of those savings -- $741 billion -- will also come from discretionary programs.
The cuts are bound to be unpopular, since most everything people associate with the federal government except for the big entitlement programs is considered discretionary.
Still, the spending-cut trigger may not be too much of a deterrent.
First, for Democrats who want to avoid big hits to Medicaid and Medicare and for Republicans who want to avoid tax increases, they may think the trigger could offer a better deal than a more balanced plan put out by the super committee.
Second, the cuts caused by the trigger won't go into effect until January 2013. That leaves lawmakers a whole year to repeal the provision or lessen its punch, Collender said. "Almost no budget deal lasts longer than lunch tomorrow before lawmakers start to modify it."