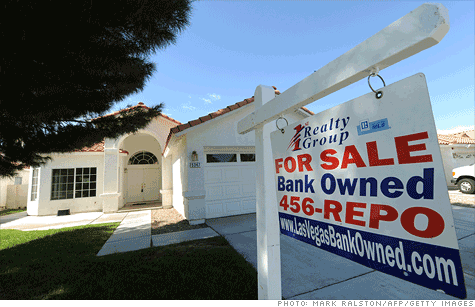 NEW YORK (CNNMoney) -- Fannie Mae (FNMA, Fortune 500), the government-controlled mortgage giant, ignored indications that attorneys it hired to handle defaults were abusing the foreclosure process, according to a report from the inspector general for the Federal Housing Finance Agency (FHFA), the agency that oversees Fannie.
The inspector general concluded that as early as 2003, legal firms retained by Fannie engaged in misdeeds. These included filing false documents and "robo-signing," in which law firm employees signed filings and affidavits attesting to knowledge that they did not possess.
Even after mortgage borrower complaints were raised in the press, the inspector general said FHFA and the agency it replaced, the Office of Federal Housing Enterprise Oversight, failed to take adequate corrective action and Fannie continued to use the law firms blamed for the problems.
"If a law firm self-reported no issues as it processed cases," the inspector general said, "then Fannie Mae presumed the firm was doing a good job."
In a letter to FHFA, Elijah Cummings, ranking member of the House Committee on Oversight and Government Reform who requested the report, called the failures "an abuse of the public trust and an assault on the integrity of our justice system."
The abuses likely affected many borrowers, given Fannie's huge footprint in the mortgage market. By 2008, when it entered conservatorship after suffering large losses in the mortgage meltdown, the value of loans it backed exceeded $3 trillion -- 26% of the total mortgage market.
As the foreclosure crisis deepened, many of those loans defaulted. In 2010, Fannie foreclosed on more than 260,000 borrowers.
"It appears that an untold number of borrowers with loans owned or guaranteed by Fannie Mae may have suffered abuses that violated their legal rights," said Cummings.
Fannie should have known the problem existed. A Fannie shareholder alerted the company back in December 2003 that its attorneys may have engaged in abusive practices in Florida, and the agency hired an outside firm to investigate.
In 2006, an internal report from that probe concluded that "[F]oreclosure attorneys ... are routinely filing false pleadings and affidavits."
A Fannie Mae spokeswoman declined to comment on the full report, but confirmed that the 2006 investigation identified a specific issue with the practice of filing lost note affidavits, which she said was immediately addressed.
But a June 2010 field visit to Florida by Fannie staff found that its attorney network there was so overwhelmed by foreclosure volume -- and the flat fees paid to them by Fannie were so inadequate -- that the firms could not devote the time needed to process the documents properly and often took shortcuts.
The problem was not confined to Florida. In 2006, a New Jersey judge found that attorneys acting for Fannie filed 250 motions for permission to seize homes that were signed by an employee who had not worked for the firm for more than a year.
FHFA itself, which took over the supervision of Fannie in July 2008, also failed to make sure that Fannie was properly supervising its attorney network, according to the new inspector general's report.
In 2010, FHFA recommended several steps that Fannie could take to curb abuses. These included introducing foreclosure checklists for its attorneys to follow; revising the compensation it paid attorneys to give them incentives to improve speed and effectiveness and to penalize poor performances; and engaging with lawyers and mortgage servicers to reduce lost paperwork and other problems.
The inspector general found little evidence that most of the directives were acted upon.
Even after foreclosure processing abuses started to draw heavier media attention last August and FHFA began its own review of the effectiveness of Fannie's oversight of its attorney network, not much improvement was made.
FHFA's internal review was finished in January 2011, and FHFA briefed Fannie on its findings that the enterprise did not meet safety and soundness standards in its dealings with its attorneys. Yet the report has not been formally released to Fannie or published.
The inspector general's report concluded that Fannie had to be much more proactive in overseeing its attorney network and that FHFA had to be more alert in policing Fannie.
It recommended that FHFA develop and implement new guidelines, procedures and plans covering default-related services. FHFA expressed willingness to do this.
Said an FHFA spokeswoman: "We are concluding our supervisory work in this area and we will direct the Enterprises to take whatever action is warranted once we are done."