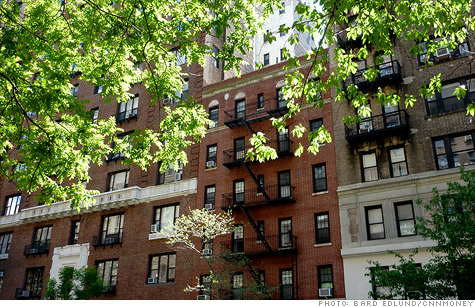 NEW YORK (CNNMoney) -- Taking advantage of a weak U.S. dollar and a beaten down housing market, foreign buyers helped push Manhattan home prices slightly higher in the third quarter, according to the city's top residential real estate agents.
The average price for a condo or co-op in the city climbed to $1.42 million in the three months ended September 30, up 3% from the second quarter, according to realtor Corcoran Group.
A separate report from realtor Prudential Douglas Elliman pegged the average selling price at $1.46 million, up slightly from the previous quarter. While reports from Brown, Harris, Stevens and Halstead Property put the average selling price at $1.44 million for third quarter.
"Thirty-five percent of our agents represented foreign buyers during the quarter," said Pamela Liebman, CEO of Corcoran Group. "That's high compared with the past and significantly higher than last year. They are buying everything from one bedrooms to trophy properties."
The weak dollar contributed to the foreign-shopping spree. Euros were worth about $1.45 or so through most of the quarter (they have fallen to under $1.32 since), giving those who earn euros more buying power in the U.S. market.
Many Russians and South Americans, whose currencies are also strong right now, bought properties as well, according to Jonathan Miller, president of the appraisal firm Miller Samuel, which compiles the market report for Elliman.
The foreign demand has helped boost sales activity overall. Corcoran said it recorded the highest number of transactions during the third quarter since the second quarter of 2008 -- before the housing downturn began.
Homes also moved more quickly. The average time on the market during fell to 119 days from 125 in the second quarter, according to Miller.
Median home prices -- or the mid point for home prices -- in Manhattan have basically remained between $800,000 to $900,000 over the past few years -- and are likely to remain in that range, said Miller
That's because little new inventory has been coming onto the market. Many of the buildings that were in the early stages of development when the financial crisis hit back in 2008 were stalled after builders found it difficult to get the financing they needed to finish their projects. And, with prices in decline, there was less incentive to complete the projects. Even now, many of the new buildings getting topped off are rentals.
Inventory could get even tighter if lenders start to loosen the purse strings on mortgage loans. But for now, many people who want to buy a home can't seem to get a mortgage, said Miller.
"Underwriting has actually gotten tighter since January," he said. "That's what makes the stability in pricing and the pop in sales so interesting."