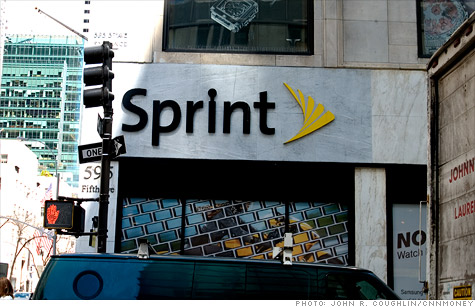 NEW YORK (CNNMoney) -- Sprint hopes the iPhone is just what the doctor ordered. But it might just make Sprint even sicker.
Apple announced Tuesday that Sprint Nextel (S, Fortune 500) will become the third U.S. wireless carrier to offer the iPhone 4S, beginning Oct. 14. The struggling No. 3 U.S. wireless carrier has been losing contracted customers in droves to AT&T (T, Fortune 500) and Verizon (VZ, Fortune 500), both of which currently sell the iPhone.
In fact, Sprint has lost net subscribers under contract in all but one three-month period since the second quarter of 2007 -- the quarter before the iPhone first went on sale.
Yet analysts are mixed about whether selling the iPhone even makes sense for Sprint. The Wall Street Journal reported this week that, according to sources with knowledge of the company's terms with Apple (AAPL, Fortune 500), Sprint must commit to purchasing 30.5 million iPhones from Apple over a four-year period -- whether or not Sprint can sell them to customers.
The Journal estimated that could cost Sprint upward of $20 billion, though most analysts agreed that number seemed a bit too high to be realistic.
Still, any multi-billion commitment would be a hefty one for a company that's hemorrhaging money. Shares of Sprint fell nearly 1% Tuesday after tumbling more than 10% on Monday, following the Wall Street Journal's story.
Yet most industry experts believe Sprint is left with no choice.
"The iPhone is certainly a double-edged sword for Sprint," said Michael Nelson, analyst at Mizuho Securities.
"Sprint is at a competitive disadvantage from not having the iPhone, so getting it will give Sprint the opportunity to get on a level playing field with AT&T and Verizon," he continued to say. "The devil is clearly in the details about what kind of dilution it will cause for Sprint in near term, and whether it can recoup those costs in the longer term and gain market share."
In other words, the iPhone is the golden goose that could lead to Sprint's revival, but it might break the bank to buy it.
The iPhone cramps carriers' margins, since the device costs more to subsidize than the average smartphone. Meanwhile, Sprint has committed upwards of $5 billion in its "Network Vision" enhancements to its infrastructure, it continues to invest in 4G provider Clearwire, and it pays roughly $2 billion each year on its debt maturities, according to Nomura Americas.
"If details emerge that Sprint actually committed to the terms expressed in the WSJ article, we believe equity investors face significantly higher risk," said Mike McCormack, senior telecommunications analyst at Nomura Americas.
Another worry, is that since Verizon and AT&T already offer the iPhone, Sprint's iPhone will mostly help with keeping the customers it already has, rather than bringing in new customers from rival networks.
Yet some believe that Sprint holds a key advantage over its rivals that could help the iPhone boost the company: Sprint is the only major national network to continue to offer an unlimited data plan. IPhone customers tend to use more data than customers that use other devices, which means some heavy-downloading Verizon and AT&T customers may be persuaded to switch to Sprint once it begins selling Apple's new phone.
"The unlimited data plan gives Sprint a distinct marketing advantage," said Todd Rethemeier, analyst at Hudson Square Research. "There is the potential for that to get customers over from AT&T and Verizon -- Sprint certainly hopes so."
If there is an advantage to losing customers, it's that Sprint has ample headroom to continue to offer its unlimited plan for quite some time, analysts agreed. The company has excess network capacity that Verizon and AT&T lack.
It's a big risk that could reward Sprint handsomely if the company can grow its market share and hang onto its existing customers as a result. But for a company already on tenuous ground, taking that risk could prove disastrous if the plan fails.