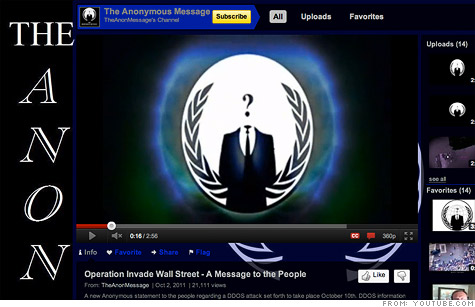 A YouTube video called for an Anonymous attack on NYSE.com on October 10.
NEW YORK (CNNMoney) -- Can protesters crash the New York Stock Exchange's website? Anonymous, a collection of online "hactivists," wants to find out: It issued a call this weekend for a coordinated attack on NYSE.com.
The message went out through a video on YouTube calling for a "DDoS attack" attack on the New York Stock Exchange's site at 3:30 p.m. ET on October 10. That's Columbus Day, a holiday for many U.S. workers, but the stock markets will be open for their usual trading house.
The attack Anonymous is trying to organize is a "distributed denial of service" attack, which directs a flood of traffic to a website and temporarily crashes it by overwhelming its servers. It's a favorite tool of Anonymous, which has used the tactic successfully against many sites including MasterCard.com and Visa.com, but it doesn't involve any hacking or security breaches.
A successful DDoS attack might crash the New York Stock Exchange's website, but it wouldn't affect the exchange's far more important stock trading platform.
A representative from the New York Stock Exchange declined to comment.
The YouTube video calling for the Oct. 10 attack cast this protest as an extension of the "Occupy Wall Street" demonstrations that have continued into a third week.
"A new civil rights movement has begun," says the narrator of the YouTube video. "You now have an opportunity to make a difference. Join the protests. Organize your own. Watch online. Be a part of the movement."
Anonymous' attacks haven't always worked: It failed in an attempt to take down Amazon.com, which has extensive safeguards against sudden traffic spikes. The DDoS attacks have also led to the arrests of several participants.
Anonymous is a loosely organized, leaderless collective, and at least a few of its members don't think the NYSE.com attack is a risk worth taking. Another site used to coordinate Anonymous operations, AnonNews.org, posted a statement saying that it is "sincerely worried" about the plan and advises against participating.
"We strongly advise against this action and everything it entails," the statement said. "Many of our brothers and sisters have gone down in the fight for using such tactics, like the wikileaks defendants who took down Visa, Paypal, and Mastercard which led to mass arrests. We do not want history to repeat itself."