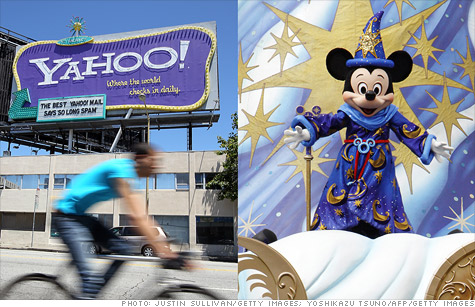 NEW YORK (CNNMoney) -- Yahoo's big announcement on Monday was something of a snoozer: It's partnering with ABC News on newsgathering and content. But the deal highlights how nicely buyout-ripe Yahoo's assets fit with big media companies like ABC owner Disney.
It's an open secret that Yahoo (YHOO, Fortune 500) is in play. Last month's firing of CEO Carol Bartz underscored Yahoo's ongoing problems, and on Tuesday the Wall Street Journal reported that Goldman Sachs and Allen & Co. are preparing documents for prospective Yahoo bidders.
Private equity firms Silver Lake Partners and Andreessen Horowitz have been named as possible Yahoo buyers. AOL (AOL) is another oft-cited suitor, even though AOL itself facing massive challenges. Microsoft (MSFT, Fortune 500), which offered to buy Yahoo for more than $47 billion in 2008 and was turned down, has also been named as a potential bidder.
While Disney (DIS, Fortune 500) hasn't thrown its name into the ring, one analyst thinks it and its big-media rivals should consider a Yahoo buyout.
"The big guys -- Apple, Google -- aren't interested. And either way, it would make more sense for a traditional media company to buy Yahoo," says James Dobson, stock analyst at The Benchmark Group.
That's because traditional media companies are struggling with how to monetize their online presence. They're still working through the transition from old to new media, and they face stiff competition from upstart online publications.
Yahoo declined to comment on "rumors and speculation," and Disney did not reply to a request for comment.
"This is an area where the old guys are not leaders," Dobson says. "Purchasing Yahoo won't automatically make the buyer a leader, but it would certainly make them a more significant player."
Yahoo maintains a good user reach in many of its online content subjects, especially news and sports. And media companies should love Yahoo's ramped-up focus on online video, which "seems to have reached an inflection point," Dobson says.
But Stifel Nicolaus analyst Jordan Rohan scoffs at the idea of a media company snatching up Yahoo.
"It will take tens of billions to make this happen," Rohan says. "Media companies could buy a piece now, maybe, but even that could take years and years."
Alibaba circling: Rohan is more interested in another potential buyer: Chinese Internet company Alibaba, of which Yahoo owns a 40% stake. Alibaba CEO Jack Ma said late Friday that Alibaba would be "interested" in buying all of Yahoo.
Alibaba is considered one of Yahoo's most valuable assets, but the relationship has been contentious as of late. Ma and Bartz had a dispute over ownership of Alipay, an online payment unit similar to eBay (EBAY, Fortune 500) owned PayPal. In May, Yahoo disclosed that Alibaba had shifted 100% ownership of Alipay to a new entity controlled by Ma. Investors punished Yahoo's stock after the flap.
Rohan estimates that Alibaba represents more than half of the value of Yahoo, and he notes the Chinese company recently raised financing at a $32 billion valuation.
Even if Alibaba doesn't end up trying a Yahoo buyout, Rohan says, someone else will. He calls a bid for Yahoo in the $18 to $22 per share range "80% likely."