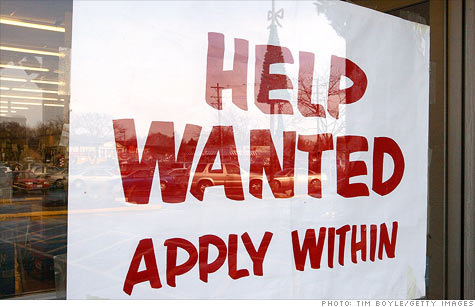 NEW YORK (CNNMoney) -- The holiday season is barely underway, and retailers are already expressing a ho-hum attitude towards hiring.
Retailers are expected to hire just 480,000 to 500,000 seasonal workers this year, according to a report released Thursday by the National Retail Federation. That's in line with the 495,000 seasonal employees they hired last year, but still far from pre-recession highs.
A separate report by outplacement firm Challenger, Gray & Christmas also predicted that seasonal hiring will be about the same or lower than a year ago, when employment grew by 627,600 from October through December.
"It would be surprising if holiday hiring exceeded last year's level," said John Challenger, the firm's chief executive officer. "Consumers are just tapped out."
Holiday retail sales are expected to increase by 2.8% to $465.6 billion, the NRF also said. While it's a step in the right direction, that growth is far lower than the 5.2% increase retailers experienced last year.
With consumers still reluctant to splurge -- even on gifts at the holidays --retailers will be playing it safe, added Robert Brusca, a chief economist at Fact and Opinion Economics.
"They're keeping it pretty close to the vest," he said.
During the 2007 holiday season -- right before the recession began -- retailers hired 720,000 workers. But just one year later, as the recession took hold, holiday hiring hit a 26-year low and only 324,000 temporary workers were hired.
Retailers seem split on bulking up their workforces this year. Last month, Best Buy (BBY, Fortune 500) announced that it will only be hiring a fraction of the holiday workers that it took on last year and Toys "R" Us said that this year's holiday hiring will be in line with the previous year. Meanwhile, Macy's said it plans to hire even more temporary workers this holiday season.
Although a majority of the retail hiring will take place in the weeks ahead, a portion of those positions have already been filled, the NRF said. Since August, the retail industry has added nearly 100,000 jobs.