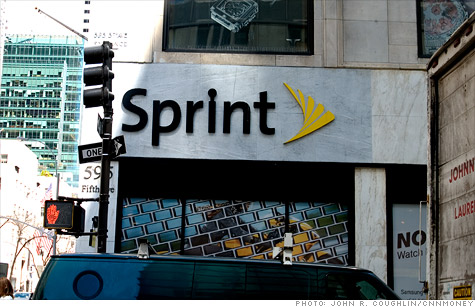 NEW YORK (CNNMoney) -- Sprint is trying to convince investors that it really could be the comeback story of the year -- next year. Or maybe the year after.
The No. 3 U.S. wireless provider announced at an analyst meeting on Friday that it is about two years ahead of schedule on its expected roll-out of its new 4G wireless technology, deploying a network using the new industry standard called Long Term Evolution. That speedier-than-expected deployment means Sprint could catch up to the 4G coverage Verizon (VZ, Fortune 500) provides and match AT&T's (T, Fortune 500) roll-out plans by 2013.
But in the meantime, Sprint said it is running out of money and may need to draw down from its credit line or raise more capital to fund itself.
Shares of Sprint (S, Fortune 500), which had soared 12% on the 4G news, suddenly reversed course on the liquidity announcement and fell 16%, to $2.53.
Sprint Chief Financial Officer Joe Euteneuer said that the company would be cash flow negative for the next two years, as it builds out its own new 4G network. Liquidity should begin to improve in 2014 once the roll-out is complete, he said.
Analysts were skeptical, particularly since Sprint had previously relied on partners to help the company achieve its 4G goals.
Sprint currently uses a 4G technology called WiMAX, a technology provided by Clearwire. Yet Clearwire is in danger of filing for bankruptcy, and its financial troubles have prevented WiMAX from being rolled out to much of America. Sprint said Friday it plans to end its commitment to WiMAX by the end of 2012 -- earlier than many had expected. Clearwire (CLWR) shares tumbled 25% on the news.
"Strategically, it all makes sense," said Avi Greengart, research director at Current Analysis. "I'm just not sure how they get there."
The meeting turned ugly during the question-and-answer session, with confounded analysts trying to figure out how Sprint will be able to afford its new network enhancements. The Q&A got off to a contentious start, with the first analysts annoucing: "I'd be lying if I said I understood what was going on in a lot of those slides."
Dan Hesse, Sprint's CEO, said that he didn't know what Clearwire's financial situation was, but insisted that even if the company were to go bankrupt, Sprint's 4G customers would not be affected. He also insisted that Clearwire remains a good partner, despite the fact that Sprint is switching to LTE.
That only angered analysts more.
"You act like Clearwire isn't subsidiary of which you own 54%," an analyst shouted. "Why spent billions to build out a brand new network, when a $600 million investment in Clearwire would take their network up to LTE? Why spend 10 times as much?"
The room erupted in applause and whistles, while the Sprint executives looked stunned.
"$600 million is not enough; you better get your facts straight," Steve Elfman, Sprint's head of network operations, snapped back.
The meeting was then abruptly cut off.
Improvements faster than expected
Prior to the CFO's presentation, the meeting had been largely positive. The company said it would begin turning on its new 4G network to customers in the middle of next year, initially covering 123 million Americans. By 2013, the roll-out will be complete, covering 250 million potential customers.
Sprint also said the iPhone will help it catch up to its two biggest competitors. The No. 1 reason customers under contract give for leaving Sprint is the fact that it hasn't sold the iPhone, the company said Friday.
Despite investor concerns that the company will have to pay too much to sell the iPhone on its network, Sprint said it views the iPhone as a money-maker.
"Apple is arguably the best global brand in the tech space," Hesse said. "Our expectation is this will be most profitable device we've sold. We expect this to be quite accretive to our cash flow over time."
Trailing Verizon and AT&T in network quality and financial flexibility, Sprint has struggled to add new customers. Earlier this year, Sprint unveiled its plan to fix those problems in a program called "Network Vision." On Friday, Sprint executives surprised industry analysts by announcing the significant progress the company has made in its comeback effort.
Including WiMAX, Sprint runs about four different network technologies on separate cell sites on different frequencies. It's woefully inefficient, and for a company that is already hemorrhaging cash, it's hurting the carrier's ability to catch up.
The company said it has made good headway in reducing the number of different network technologies and making use of all frequencies for every network on each cell tower. Ultimately, that will allow Sprint to reduce the number of cell sites it operates by about a third, expand its overall 3G and 4G coverage, and cut its cost-per-minute and cost-per-gigabyte expenses by about half.
"Simplicity builds business," Hesse said. "Customers will pay more for simplicity. To oversimplify that simplicity, our plan is for our motivated work force to use our strong brand to get customers and our stronger network to keep those customers."