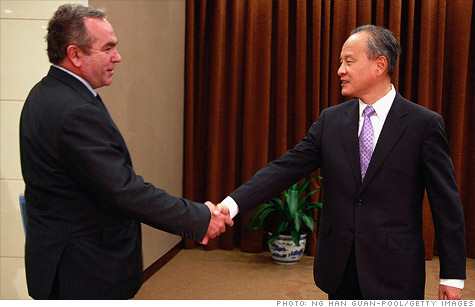 U.S. Assistant Secretary of State Kurt Campbell (left) meets China's Vice Foreign Minister Cui Tiankai for talks in Beijing on October 11, 2011.
BEIJING (CNN) -- A bill that will penalize China for allegedly manipulating its currency to gain a trade advantage is headed for a vote in the U.S. Senate Tuesday, adding pressure on China to appreciate the yuan.
China opposes the bill and warns of a trade war if the bill is passed.
"Should the proposed legislation be made into law, the result would be a trade war and that would be a lose-lose situation for both sides," said Vice Foreign Minister Cui Tiankai.
"It would be detrimental to the development of economic ties and might have an adverse impact on bilateral relations."
Vice Minister Cui spoke in a press briefing one day before a high-level meeting in Beijing with his American counterpart, U.S. Assistant Secretary of State Kurt Campbell. The two senior diplomats are expected to discuss bilateral, regional and global issues.
Even if the bill passes in the Senate, it still needs to go through deliberation and vote by the U.S. House of Representatives.
House Speaker John Boehner has signaled his opposition to the bill. "I think it's pretty dangerous to be moving legislation through the United States Congress forcing someone to deal with the value of their currency," Boehner told reporters on Capitol Hill.
"This is well beyond, I think, what the Congress ought to be doing."
The Chinese currency, also known as the renminbi, has appreciated in real terms by over 20% against the U.S. dollar since 2005, when China adopted a "managed float" of the currency.
Bipartisan supporters of the Senate bill say China has not done enough. They claim the renminbi is undervalued by 25-30% against the dollar, which means Chinese exports to the U.S. become 25-30% cheaper, while U.S. goods exported to China are more expensive.
Forcing China to revalue its currency, they say, could help re-balance America's trade with China and bring large number of jobs back to the U.S.
"If China continues its predator practices, the future of our children and grandchildren in this country will not be bright," said Charles Schumer, the Democratic senator from New York. Schumer has frequently proposed punitive sanctions on China for keeping its currency artificially undervalued.
Opponents of the Senate bill argue that the currency sanctions would not fundamentally resolve the U.S.-China trade imbalance, nor alleviate unemployment in America.
"A stronger yuan is not going to bring back jobs in labor-intensive, low-tech industries where the U.S. has no real competitive advantage," said Patrick Chovanec, associate professor at Tsinghua University's School of Economics and Management.
"Those jobs will go to Bangladesh or Vietnam before they come back to the U.S."
On the eve of the U.S. Senate vote, Vice Minister Cui said China is closely watching the steps the U.S. Congress might take.
"This bill in no way reflects the reality of our economic and trade relations," he said.
"It might have adverse impact in our relations. It will be trade war in which there will be no winners."