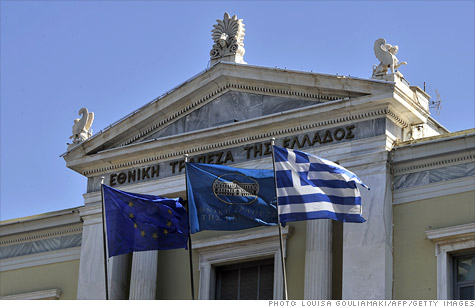 Greece has moved one step closer to receiving the next installment of its first round of bailout funds in early November.
NEW YORK (CNNMoney) -- International monitors in Greece completed a review of the nation's finances, and said the latest installment of Greece's €110 billion bailout could be disbursed in early November.
The European Commission, the European Central Bank and the International Monetary Fund -- known as the troika -- said they had completed their fifth review of Greece and agreed "on the economic and financial policies needed to bring the government's economic program back on track."
The officials said they believe Greece will be able to meet its 2011-2012 fiscal targets, citing a rebound in exports "albeit from a low base." The troika noted that rebound could lead toward "more balanced and sustainable growth over the medium term."
But the officials offered a dismal outlook for Greece's fiscal future, noting that "the recession will be deeper than was anticipated in June and a recovery is now expected only from 2013 onwards."
The troika also said that "additional measures" will probably be needed to "meet program targets" for 2013 in 2014.
Of the expected €8 billion installment, the European member states would provide €5.8 billion and the IMF, of which the United States is a member, would provide €2.2 billion.
The funding plan still needs final approval from the Eurogroup (eurozone finance ministers, the ECB president and European Commissioner for economics and monetary affairs) and the IMF's executive board before it becomes a done deal.
The purpose of the funding is to help Greece avoid default on its loans, which would cause further disruptions to the European financial sector and Wall Street.
Euro area officials have insisted that Greece will be able to avoid default, but many experts say a default is inevitable because Greece owes more than it can realistically pay back.
Greece has stayed afloat for more than a year thanks to bailout funding from the IMF and its euro "partners."
The troubled nation has had a tough time enacting painful austerity measures aimed at lifting Greece out of recession.
The Greek government said recently that it won't meet its budget goals because of the deeper-than-expected recession.
That raises the question of whether or not a second €109 billion bailout will come to fruition. Some experts have been predicting that Greece would get the full amount of its first bailout but that the second one was far from a foregone conclusion.
As part of the proposed second bailout, banks and private sector investors agreed to take a 21% writedown on the face value of the Greek bonds on their books.
But there is now widespread speculation that bondholders may need to accept "haircuts" of up to 50% in order for Greece to recover. That would represent a significant liability for the European banking sector, which is already seen as woefully undercapitalized.
Over the weekend, German Chancellor Angela Merkel and French President Nicolas Sarkozy said they've agreed on a "comprehensive package" of measures to address the eurozone sovereign debt and banking crisis, but they did not give any details.
European Commission president Jose Manuel Barroso is expected to announce his plan for recapitalizing Europe's banks on Wednesday afternoon, his office told CNN
-- CNNMoney staff writer Ben Rooney and CNN's Kendra Wates contributed