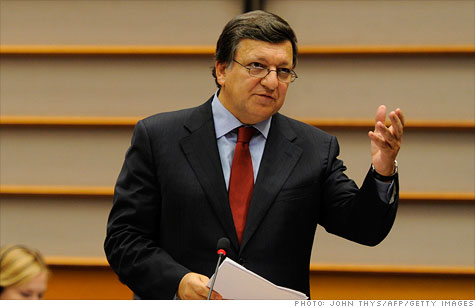 European Commission president Jose Manuel Barroso turns up the heat on Europe's sluggish response to its government debt and banking crisis.
NEW YORK (CNNMoney) -- European Commission president Jose Manuel Barroso announced a five-point plan Wednesday to address Europe's sovereign debt problems, saying policymakers need to act immediately to resolve the long running crisis.
"We now need to get ahead of the curve," Barroso told the European Parliament.
Barroso, who heads the European Union's executive body, outlined a series of measures that represent a "comprehensive response" to the debt problems that are putting stress on the European banking system.
He said European leaders need to act quickly and agree on the plan at the next meeting of the European Council on October 23.
"Confidence can be restored through an immediate deployment of all the elements needed to solve the crisis," said Barroso. "Only in this way we will be able to convince our citizens, our global partners and the markets that we have the solutions that measure up to the challenges all economies are facing."
Barroso said the first step is to take "decisive action on Greece," including the latest installment of bailout money for the debt stricken nation.
International monitors in Athens completed a review of the Greece's finances Monday, saying the nation should receive the much-needed funds in early November.
Greece should also receive a second "adjustment program," based on a combination of private sector involvement and "adequate financing" from European governments, he said.
Barroso called on European leaders to "urgently strengthen the banks," which have been hit by liquidity problems linked to fears that the debt problems in Greece could spread to Italy and other euro area nations.
"The sovereign contagion and banks, whether we like it or not, are now linked," he said.
Echoing recent comments made by the leaders of Germany and France, Barroso said banks should first seek to raise capital from private investors. If they cannot, he said European states should inject capital into banks before tapping funds from the European Financial Stability Facility.
Barroso also called on the European Banking Authority to conduct another assessment of the banking system to determine which banks have the largest exposure to distressed government debt.
Banks that do not meet new capital requirements should be prevented from paying dividends to investors and bonuses to employees, he said.
In addition, Barroso said EU policymakers should "fast track" policies aimed at enhancing stability and economic growth in Europe.
"We are really speaking seriously when we mention the need for more discipline, more integration," he told Parliament.
Barroso said policymakers should accelerate the adoption of the European Stability Mechanism, a permanent replacement for the temporary EFSF. He also called for swift action on a proposed financial transaction tax.
In addition, he urged policymakers to take steps toward greater cooperation on economic and fiscal policies across the 27-member European Union.
"We must complete the monetary union with a real economic union," Barroso said. "The future of the euro depends on it."
But he also said the need to make longer-term structural reforms should not prevent officials from taking immediate action on measures to contain the crisis.
"It is time to say that the speed of European Union should not be the speed of its slowest member," he said.