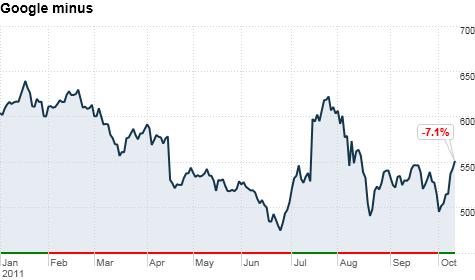 Despite strong sales and earnings growth, Google's stock has fallen along with the rest of the market in 2011. Click chart for more on GOOG.
NEW YORK (CNNMoney) -- Google may be the new IBM. It's stable, steady and predictable. Heck, you could even call it boring. Online search? Yawn.
But when you look at how dysfunctional many other tech "leaders" are these days, being "interesting" is overrated.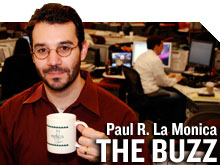 Google (GOOG, Fortune 500) isn't irritating its core customers with an enormous price hike and New Coke-esque branding debacle like Netflix (NFLX). It isn't firing CEOs and searching for its identity like Yahoo (YHOO, Fortune 500). Or Hewlett-Packard (HPQ, Fortune 500). It isn't stubbornly clinging to a product that's rapidly losing market share like Research in Motion (RIMM).
If you want to be critical of Google, you could say that Google circa 2011 isn't posting the boffo type earnings and sales growth numbers that investors got used to seeing from Google back in 2006 and 2007.
But other than Apple (AAPL, Fortune 500), name a tech company that has successfully defied the law of large numbers? It was inevitable that Google's momentum would slow. It's a company that's expected to report revenue of nearly $30 billion this year.
And for all the talk about how Google is losing ground to Facebook -- despite the launch of the Google+ social network-- one look at Google's fundamentals show that there are worse things in the world than being the undisputed leader in search.
Google will report its third-quarter results after the closing bell Thursday. Analysts are expecting year-over-year earnings growth of 14% and an annual sales increase of 30%.
"Google's business has strong momentum. When you talk about Facebook, you have to look at its other businesses," said Clayton Moran, an analyst with The Benchmark Company in Delray Beach, Fla. "Google still is gaining share in search. Its advertising exchange is growing in a rapid and aggressive manner. And it has Android in mobile. Google has not lost its mojo."
Put aside all the silly Wall Street reindeer games of beating consensus targets and relative expectations for a second and focus on the absolutes. Mid-teens earnings growth is pretty impressive at a time when the U.S. economy is slowing and Europe is in financial tatters.
Yes, Google's average annual earnings growth rate for the past five years is closer to 25%. But many of the complaints about Google's slowing earnings growth are silly and myopic.
Google's sales increases have outpaced profit growth for a while because Google is constantly investing in research and development. The company wisely realizes that you may have to sacrifice some percentage points of profit margin in the short term in order to stay healthy and relevant over the long haul.
Google is actually adding lots of new workers, an amazing feat considering that so many big companies are blaming the federal government, Europe and sluggish consumer spending for their lack of hiring.
In the second quarter alone, Google's net headcount rose by about 2,000. Google added another 450 employees via the acquisition of travel software firm ITA.
Google's headcount could take another huge leap forward once the company closes on its purchase of Motorola Mobility (MMI). That deal is another example of the company's willingness to take calculated risks that may not make sense for the next few quarters.
Buying struggling Motorola for a lavish premium (while apparently bidding only against itself) is not likely to help Google sell that many more Android-based phones. If anything, some other major Android suppliers, such as Samsung and HTC, may bristle at the fact that Google is now in the hardware business.
But the Motorola deal had more to do with locking up patents than selling Droid handsets and Xoom tablets. It's a savvy move in what's shaping up to be an intellectual property war featuring the likes of Apple and Microsoft (MSFT, Fortune 500).
Trip Chowdhry, an analyst with Global Equities Research in Redwood Shores, Calif., wrote in a report Wednesday that 2011 is the "year of investments" for Google and that 2012 will show the fruit of these investments. He thinks earnings growth next year will be higher than this year.
Don't get me wrong. Google is far from being a perfect company. Co-founder and CEO Larry Page still has a lot to live up to following the successful stint of Eric Schmidt, who gave up the CEO spot earlier this year and is now just chairman.
Google may have overpaid for Motorola. The jury is out on whether Google+ can really make a dent in the Facebook juggernaut. Google has replaced Microsoft as the favorite convenient target of antitrust regulators in the U.S. and Europe.
And it's still unclear just how profitable YouTube, which Google bought for $1.65 billion five years ago, can truly be.
Still, in a broader market that remains risky due to global economic fears, Google seems like a more lucrative safe haven than Treasury bonds.
Google doesn't pay a dividend. But its shares trade for just 13 times 2012 earnings estimates -- even though analysts are forecasting an 18% profit jump next year.
It's also important to remember that Google doesn't do the whole earnings guidance thing. You really have to focus on the long-term. One analyst even offered a variation on Google's famous "Don't be evil" mantra as advice.
"Don't be cute and trade Google based on quarterly numbers," said Martin Pyykkonen, an analyst with Wedge Partners in Denver. "Yes, Google has to do better in social networking. But the fundamentals are solid. It's still at a pretty attractive valuation."
The opinions expressed in this commentary are solely those of Paul R. La Monica. Other than Time Warner, the parent of CNNMoney, and Abbott Laboratories, La Monica does not own positions in any individual stocks.