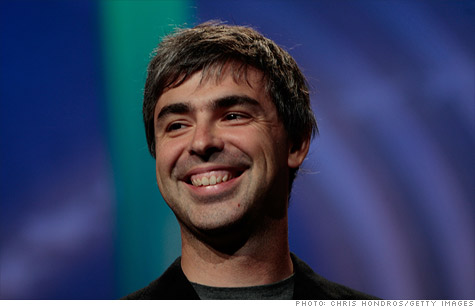 Under CEO Larry Page, Google has embarked on a series of bold bets, including Google+ and its Motorola acquisition.
NEW YORK (CNNMoney) -- Google reported third-quarter earnings that handily beat estimates, and announced that its three-month-old Google+ social network now has 40 million users.
That's a big increase from the 10 million users Google+ had at the end of Google's last quarter, when it remained in a "limited" trial phase. The network opened to the public in late September.
In an earnings release late Thursday, Google said it earned $9.72 per share. Analysts polled by Thomson Reuters had forecast earnings of $8.74 per share.
Advertising and profit: Investors are looking to Google's advertising figures as a barometer of the overall economy, and the numbers were good -- though the cost-per-click increase was not as high as it was last quarter.
Profit rose as both the number of clicks on Google's ads and the amount that advertising partners pay per click increased. Paid clicks rose 28% and cost per click ticked up 5% compared to last year.
Sales for the Mountain View, Calif., company rose 33% over the year to $9.7 billion. Excluding advertising sales that Google shares with partners, known as "traffic acquisition costs," the company reported revenue of $7.5 billion, which beat analysts' forecasts of $7.2 billion.
Shares of Google (GOOG, Fortune 500) rose 6% after hours.
Spending and hiring: Google is continuing to spend at a quick clip. Capital expenditures totaled $680 million in the third quarter, including investments in Google's massive data centers.
But Google has plenty of cash to back up its shopping spree. As of September 30, the company had $42.6 billion on hand.
Google is also continuing to ramp up its hiring. Full-time staffers totaled 31,353 as of September 30, up 9% from the previous quarter.
Motorola: On Google's earnings call, analysts asked about Google's $12.5 billion acquisition of Motorola Mobility (MMI). The deal was announced in August and, once finalized, will score Google some valuable Motorola patents. Intellectual property is turning into a battlefield among tech giants including Apple (AAPL, Fortune 500) and Microsoft (MSFT, Fortune 500).
When an analyst asked whether Google will license Motorola software to other companies, Google CEO Larry Page said "it would be premature" to discuss details before the deal is approved.
"We're very excited about Android, and we see that ecosystem growing," Page said, adding that the strategy is "getting stronger" -- and the Motorola deal is part of that.
Browsers and search: Page also revealed that the Google Chrome browser now has more than 200 million users worldwide.
Susan Wojcicki, Google's senior vice president of advertising, talked up the Flight Search that Google launched last month. She also said Google data shows that "ads that are socially annotated are more useful for users."
Google execs did not talk specifically about recent antitrust concerns. The Federal Trade Commission has been investigating the company for evidence of abusive practices, and a federal judge recently rejected Google's planned settlement deal in its attempt to create a universal online book library.
Page instead offered up a "view of the future" sentiment that echoes some of his past statements: "We are still at the very early stage of what technology can deliver. These tools will look very different in five years."