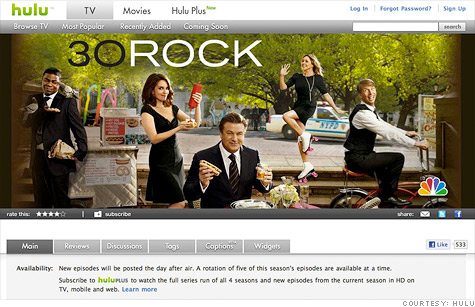 NEW YORK (CNNMoney) -- TV on demand website Hulu, which has been not-so-quietly hunting for a buyer for several months, said late Thursday that it has decided not to sell itself.
"Since Hulu holds a unique and compelling strategic value to each of its owners, we have terminated the sale process," Hulu's management said in a statement posted to the company's blog. "Our focus now rests solely on ensuring that our efforts as owners contribute in a meaningful way to the exciting future that lies ahead for Hulu."
Hulu is co-owned by NBCUniversal, News Corporation (NWS), The Walt Disney Company and private equity firm Providence Equity Partners -- a challenging ownership structured that led the company to consider other options. Hulu put itself on the block earlier this year, and had every major media and communications company kicking the tires. Google (GOOG, Fortune 500) and the Dish Network (DISH, Fortune 500) were widely reported to be among the leading suitors in a deal that Hulu's owners hoped would fetch around $2 billion. Disney (DIS, Fortune 500) CEO Robert Iger said in July that Hulu's owners were "committed to selling" it.
But Hulu's owners have now scuttled that plan, pledging to continue building the site as an independent player in the fiercely competitive market for streaming TV and film content. Netflix's recent missteps -- a wildly unpopular price hike and a quickly reversed plan to spin off its DVDs-by-mail service -- have widened the playing field. Unhappy Netflix (NFLX) customers are hunting for alternatives, and Hulu is among the rivals competing to scoop them up.
Hulu fans had been alarmed by news that the company was seeking a buyer, and seemed cheered by the announcement that it would stay independent.
"Please don't screw this up like some other companies have. *cough* netflix *cough*," one replied on Hulu's blog post.
"Glad to hear it -- hopefully you can continue to secure the rights to great shows," another said.
Launched in 2007, Los Angeles-based Hulu is privately held, but the company occasionally offers details through its blog on its audience size and financial performance. Hulu's core offerings are ad-supported, but last year it launched its first subscription product, the $7.99 a month Hulu Plus, which offers current-season episodes of some popular TV shows. That service now has 1 million paying subscribers, Hulu said last week.

Hulu attracted 26.7 million unique U.S. users last month, according to data that comScore released last week. Those viewers watched nearly 160 million TV programs or movies on Hulu in June, and they spent more than 3 hours each watching, on average. That time spent watching is second only to YouTube and other Google-owned sites.
Most drool-worthy for advertisers: Hulu generated the highest number of video ad impressions of any website in June. Those 1 billion ads reached 8.6% of the U.S. population.

-CNNMoney's Julianne Pepitone contributed to this report