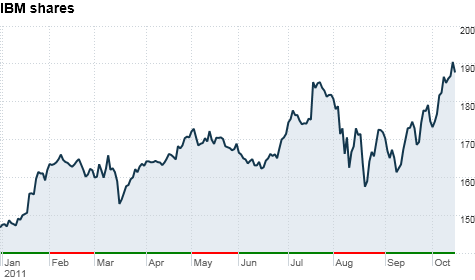 Click chart to track IBM shares.
NEW YORK (CNNMoney) -- IBM reported a 7% increase in earnings for the third quarter Monday, but shares fell after hours as the tech giant's sales just barely missed forecasts.
The company reported a profit of $3.8 billion, or $3.19 per share. Excluding one-time charges, earnings came in at $3.28 per share, ahead of the $3.22 consensus estimate of analysts polled by Thomson Reuters.
In a rare misfire, IBM (IBM, Fortune 500) -- which has a reputation for consistently beating Wall Street expectations -- came up short on sales. The company's revenue came in at $26.16 billion for the quarter that ended Sept. 30, slightly below estimates of $26.26 billion.
Shares fell 4% after hours.
IBM's businesses include software and hardware development, along with consulting and IT services. Investors tend to view the company's earnings as indicative of overall corporate technology spending and demand.
Shebley Seyrafi, managing director at FBN Securities, called the report "rather mixed," and said it would likely "lead to pressure on the stock tomorrow."
"This new information is pointing to slowing growth at the company," Seyrafi said. "At the same time, I think they're managing their expenses very well."
He added that a company of IBM's size would inevitably be affected by broader concerns such as the European debt crisis and Japan's ongoing recovery from its tsunami disaster.
Big Blue, which celebrated its 100th anniversary this year, has said it is aiming to hit earnings of at least $20 per share by 2015. In Tuesday's report, the company upped its earnings-per-share projection for 2011 to "at least $13.35," up from $13.25 last quarter.
Although investors appeared to be disappointed by IBM's third-quarter sales, the stock is still up more than 25% year-to-date. That's a stark contrast to Hewlett-Packard, one of IBM's top competitors in software and services.
Shares of HP (HPQ, Fortune 500) have plunged more than 40% this year and HP recently fired its CEO Leo Apotheker after less than a year on the job.
IBM is the first of several major technology firms to report results this week. Apple (AAPL, Fortune 500) and Intel (INTC, Fortune 500) both report after the closing bell Tuesday while Microsoft will release its results later this week.