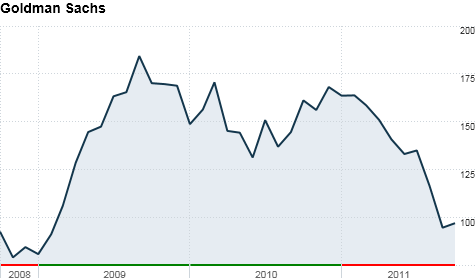 Click chart for more on Goldman Sachs
NEW YORK (CNNMoney) -- Goldman Sachs reported a larger-than-expected quarterly loss Tuesday as volatile financial markets took a toll on the bank's investment portfolio.
The bank said it lost $393 million, or 84 cents a share, in the third quarter. That compares with net income of over $1 billion, or $1.85 a share, in the same period a year ago.
Analysts had expected a loss of 16 cents a share, according to estimates from Thomson Reuters.
It was the first quarterly loss for Goldman since the fourth quarter of 2008, and only the second since the bank went public in 1999.
Despite the poor performance, shares of Goldman were up 2% in morning trading.
David Viniar, Goldman's finance chief, said the third quarter was dominated by concerns about the slowing global economy and the risk of a deepening sovereign debt crisis in Europe.
Goldman said it has a "gross credit exposure" of $4.2 billion to the five most troubled euro area nations, including government and corporate debt. After taking hedges into account, the exposure totals $2.5 billion, he said.
Viniar added that Goldman is "cautious" about the near-term outlook for the company as new government regulations on the banking industry continue take shape.
Goldman reported a paper loss of $2.48 billion in its investing and lending unit, reflecting "a significant decline in global equity markets and unfavorable credit markets."
The company lost $1.04 billion on its stake in Industrial and Commercial Bank of China in the quarter. It lost another $1 billion on other stock market positions and $907 million in the bond market.
"We really saw them take a hit on their positions on their balance sheet," said Michael Wong, an analyst who covers Goldman at Morningstar.
In addition, Goldman (GS, Fortune 500) reported a 33% drop in revenue from investment banking to $781 million as fees dwindled from initial public offerings, mergers and acquisitions and corporate debt deals.
Goldman also saw revenue decline from its "market making" operations, in which it matches buyers and sellers of securities.
Sales from the bank's fixed-income, currency and commodity trading business plunged 36% to $1.7 billion. But revenue from trading stocks rose 18% to $2.3 billion, driven by higher fees, Goldman said.
Overall, revenue fell 60% from a year ago to $3.59 billion in the quarter. Analysts had forecast $4.30 billion in sales.
So far this year, Goldman has set aside over $10 billion for compensation. That's down 24% from the same period last year.
The so-called bonus pool took a hit in the third quarter, dropping nearly 60% from the same three-month period a year ago.
Goldman Chief Executive Lloyd Blankfein said the bank was "disappointed" with its quarterly results.
"CEO and investor confidence as well as asset prices across markets were lower in the third quarter given the uncertain macroeconomic and market conditions," he said in a statement.
Meanwhile, Bank of America (BAC, Fortune 500) reported a 6% increase in profits. Citigroup (C, Fortune 500) also reported increased earnings Monday. Morgan Stanley (MS, Fortune 500) will release its quarterly report Wednesday.